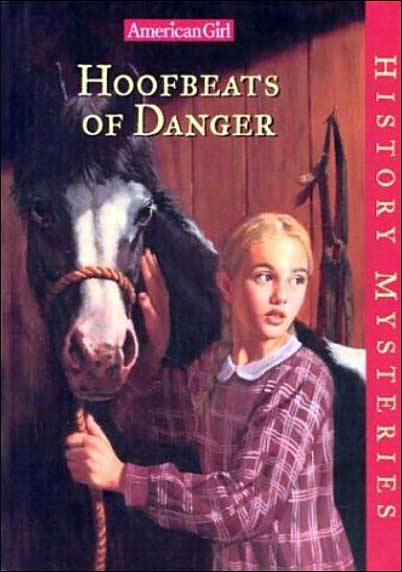 Hoofbeats of Danger
American Girl 'History Mysteries'
by Holly Hughes
An action packed historical mystery set at a Nebraska territory Pony Express Station. Eleven year old Annie, daughter of the stationmaster, suspects her favorite pony has been poisoned, so she sets out to solve the mystery--with the help of one of the Pony Express riders Bill Cody and her native American friend Redbird.
Add this pony express History Mystery to your series collection!
Reading Level
Interest Level:  Grade 3-6
DRA Level:  40
Lexile Measure: 720L
Grade Level Equivalent:  5.5
Guided Reading Level:  S
And, after kids read this book, one fun alternative to a traditional "book report" would be to have kids create an incident report and case file based on this mystery, listing:
   - a description of what happened
   - list and description of prime suspects
   - list and description of evidence collected
   - conclusion based on evidence
   - description of action taken/how the case was resolved
   - projection for the future now that the case is solved

This will be a good writing activity and will be an effective way to check reading and comprehension.

THIS IS A HISTORICAL FICTION CHAPTER BOOK.   We don't have sample pages of the main text of the book.
However... below are some pages from the BACK SECTION that is part of all History Mysteries books. This section provides more details about the historical period, in this case the history of the pony express. By the time your students have completed the book, they will naturally be curious to know more about this unique period in American history.