Hey Diddle Diddle:

A Food Chain Tale
written by Pam Kapchinske and illustrated by Sherry Rogers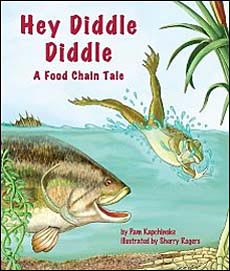 Written to the tune of Hey Diddle Diddle, this title provides three different examples of food chains in one ecosystem. The approach is decidedly whimsical and fun, but still educational.
We're told that your kids will be bouncing along with this rhythmic, fun tale that also happens to be packed with accessible information. We haven't been able to review this book yet, but it's on our list to order so our review will be added soon. In the meantime...
Teachers have written in to tell us that if you are looking for a cute and fun approach to food chains for kids, this is a good pick (as opposed to more a scientific approach.) And..there's a lengthy resources section at the end of the book. To see what we mean, click the 'see inside' link at left for sample pages.)

Interest Level: Kindergarten - Grade 3             Lexile Measure: AD820L
See Inside this book

Below are sample pages from inside this book.  To see larger versions of these spreads, simply click on the images.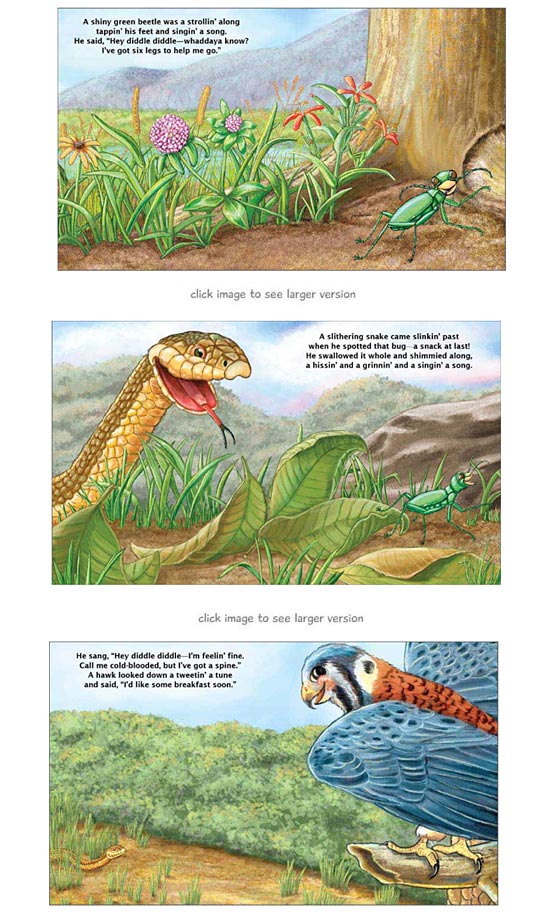 To learn more about this book, click the link below.  Please note that if you purchase an item from Amazon, they give us a small referral fee. (This helps pay for site hosting costs, thus allowing us to keep everything free for site visitors!)

Related lesson / activity ideas

The back of the book includes a resources section that teachers will appreciate. Here's mini-versions of the pages, just so you can see how packed with information this section is!




---