Hard Gold: The Colorado
Gold Rush of 1859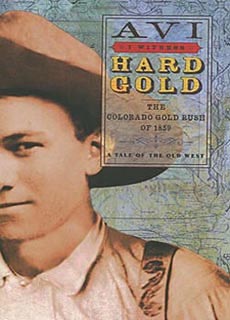 A Tale of the Old West by Avi

Early Whitcomb wants to help save the family farm, so when he hears about the Gold Rush, he thinks he's found the answer. His uncle sets out first and does strike it rich, but sends word back that his life is in danger.
Determined to help, Early sets off as well, and soon learns that the Gold Rush is a hard and dangerous endeavor, sure to "change even the best of men." (Booklist)

Nicely paired with maps, photos, and paintings on the history of the gold rush.
Booklist suggests "the detailed, authentic touches of history and adventure are a good combination for readers who might resist straight nonfiction."
Interest Level: Gr. 4-7           Grade Level Equiv: 4.5              Lexile Measure: 740L

We are still working on a more thorough review of this book, including related activities. Please check back soon. :)  In the meantime...


Please note that if you purchase an item from Amazon, they give us a small referral fee. And that helps us cover the costs of this website.