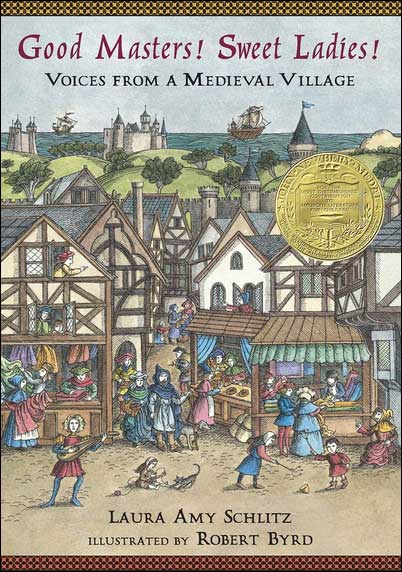 Good Masters! Sweet Ladies!
Voices from a Medieval Village
by Laura Amy Schlitz
illustrated by Robert Byrd
Journey back in time to medieval England and meet 22 unforgettable characters that live in a typical English village in the year 1255. You'll meet maidens, lords, a greedy landlord, a singing shepardess, monks ...a whole range of interesting period characters. Schlitz's riveting portraits that are witty, historically accurate, and accompanied by drawings inspired by a famous medieval illuminated poem. This is a fantastic classroom resource for any classroom but an absolute must have if you teach the Middle Ages.
"Brilliant in every way. (Kirkus Reviews, starred review)
"Outstanding."(School Library Journal, starred review)
"This unusually fine collection of related monologues and dialogues promises to be a rewarding choice for performance or for reading aloud in the classroom." (Booklist)
"A vivid, convincing portrait of medieval adolescence."(Center for Children's Books, starred review)

Good Masters! Sweet Ladies!
Reading Level
Interest Level:  Grade 5+
Grade Level Equivalent:   7.6
DRA Level:   70
Guided Reading Level:   Z
Read-Aloud vs. Individual Reading: 
For kids in fifth and sixth grade, this book will need to be a read-aloud rather than for individual reading, as the reading level will be too high for the majority of them. Some sixth graders may be able to read this book on their own as the year moves on, and older kids should be able to read this one on their own.

Awards Won by this Book
  - Newbery Medal 2008
  - American Library Association Notable Children's Book 2008
  - National Council for Teachers of English Notable Children's Book
  - National Council for the Social Studies Notable Trade Book
  - School Library Journal Best Book of 2007

See Inside Good Masters! Sweet Ladies!
Below are sample pages from inside this powerful, beautifully illustrated book.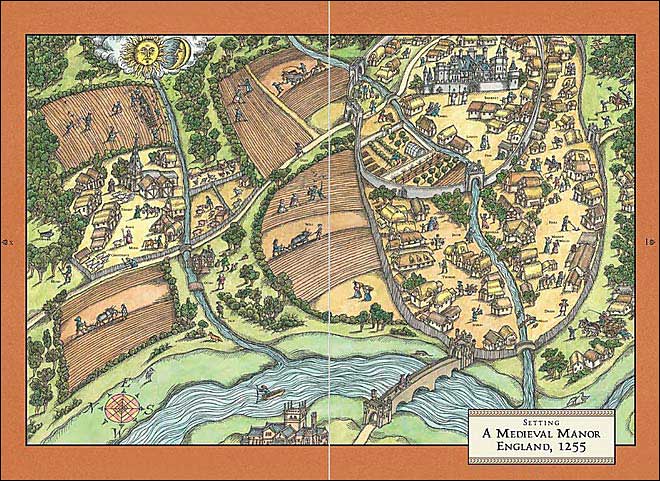 Where to now?
Now that you've seen this great book, what would you like to see now?  Please note that as an Amazon Associate, we earn from qualifying purchases.