Gold Fever
by Verla Kay and S.D. Schindler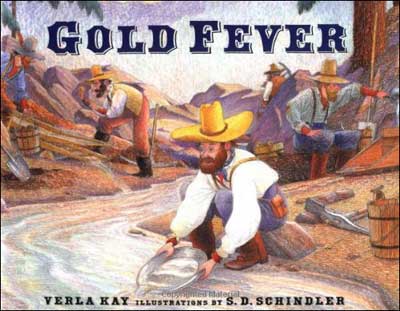 Jasper, a young farmer, enviously watches a stream of 49ers pass by: "Dashing westward,/ Many miners. Townsfolk snicker/ Forty-niners." He soon decides to join them. Soon Jasper decides it's not worth it ("Grumpy miners / Nuggets small./ Jasper scowling / Fireside brawl.") and he heads home with a new appreciation for his life as a farmer.
Readers then accompany him on the long route to west, then see as he faces all manner of hardships--from backbreaking work to harsh living conditions to dangerous wildlife.
Interest Level:  Grade 2-4
Grade Level Equivalent:  2.6
Kay's verses capture Jasper's range of emotions along the way, but remain upbeat overall. Schindler's pencil illustrations are fun and humorous but also quite educational and accurate. We've said it before and we'll say it again...we really like Verla Kay!  School Library Journal rightly called it "a terrific read-aloud."


Below are sample spreads from inside this book.  To see larger versions of these spreads, simply click on the images or click here.

Where to now?
Now that you've seen this great book, what would you like to see now?  Please note that as an Amazon Associate, we earn from qualifying purchases.