George Washington
biography for kids

A good George Washington biography can transform a traditionally wooden, serious historical figure into the fascinating, multi-talented man that he really was! Most depictions of Washington show him as-- I don't mean to be disrespectful -- a super serious old guy with no personality. Kids can't relate to that.
The real George Washington was a man full of interests and talents, some quite fascinating to kids (ie... few kids know that he was actually a spymaster extraordinaire!) The George Washington biography books below do an exceptional job of humanizing him so that children can get to know how amazing he really was!
And, we also have lists for other presidents and great figures. Click to see Abraham Lincoln, Benjamin Franklin, the founding fathers, Theodore Roosevelt.
best George Washington
biography books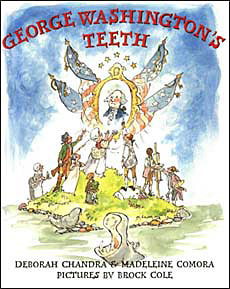 George Washington's
Teeth
by Deborah Chandra
Kindergarten - 3rd grade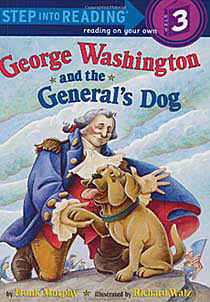 George Washington
and the General's Dog
by Frank Murphy
Kindergarten - 3rd grade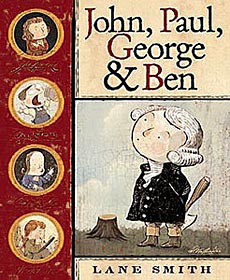 John, Paul, George,
and Ben
by Lane Smith
1st grade - 5th grade

Big George
How a Shy Boy Became
President Washington
1st grade - 3rd grade

George Did It
by Suzanne Trupp Jurmain
2nd grade - 5th grade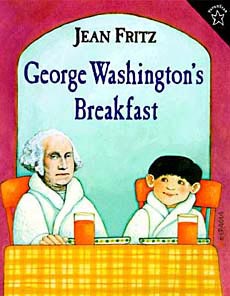 George Washington's
Breakfast
by Jean Fritz
2nd grade - 5th grade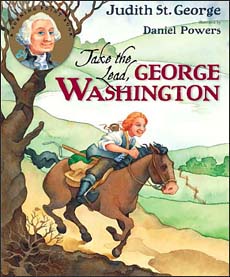 Take the Lead,
George Washington
by Judith St. George
1st grade - 5th grade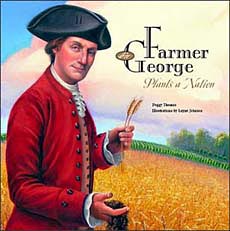 Farmer George
Plants a Nation
by Peggy Thomas
illustrated by Layne Johnson
3rd grade - 6th grade

George Washington biography
books for older kids

Below are some good chapter books about the life and character of George Washington. If any of these books seem like a good fit for you, click the title link to sample interior pages or connect directly to Amazon. Please note that if you purchase an item from Amazon, they give us a small referral fee. This helps pay for site hosting costs, thus allowing us to keep everything free for site visitors!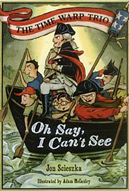 Oh Say, I Can't See
(The Time Warp Trio series) The Time Warp Trio are off on another adventure, this time warping back to 1776 just in time to meet up with Washington as he's trying to decide if his army should cross the Delaware. Will it mean disaster or victory? The trio must help save American history without being fingered as spies, plus find a missing cat from the future!  Kids will love Scieszka's snappy dialogue and bit of irreverence and humor thrown in.  (Grades 2-5)

Washington at Valley Forge
An award winning, gripping look at the miserable months Washington and his troops spent at Valley Forge. Supplies and morale were low, desertions and deaths were high, but Washington's able leadership got the troops through the direst of times. School Library Journal called this George Washington biography for kids "another stunning work from the nonfiction virtuoso." (Grades 4-8)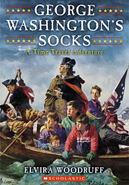 George Washington's Socks
(Time Travel Adventures series) Another time traveling adventure.  This time, it's a mysterious, magical rowboat that transports five children back in time to the decisive Revolutionary War's Battle of Trenton.The kids meet soldiers, leaders and ordinary people, and see first hand the triumphs and grim realities of war.  This book is similar in premise to the Time Warp Trio book above, and of the two, we prefer that one over this one. However, this is still a good book and great for Revolutionary War units. (Grades 4-7)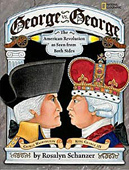 George vs. George: The American Revolution as Seen from Both Sides
This wonderfully illustrated and well written title presents "…an uncommonly balanced view of the American Revolution for younger readers…should be required reading for all young students of American history." (Kirkus Reviews) This book was an American Library Association Notable Children's Book, a School Library Journal Best Book, and Orbis Pictus Recommended Book. (Grades 4-8)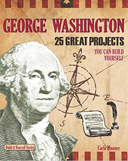 George Washington: 25 Projects You Build Yourself
This series is fabulous for adding some hands-on activities to any history unit. This book provides lots of well-written, age appropriate background on Washington's life (timelines, anecdotes, maps, details on his many accomplishments...) PLUS tons of projects to make, like: a pretend sword, a colonial era toy, a letter seal, a quill pen... (and teachers will appreciate that the materials needed are largely stuff you can easily get or even already have!  Highly recommended. (Grades 4-7)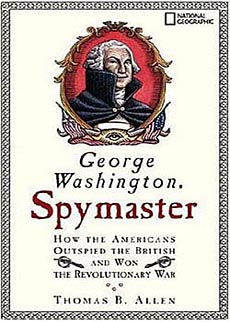 George Washington, Spymaster
Subtitled "How the Americans Outspied the British and Won the Revolutionary War." This fun to read book details General George Washington's mastery of codes, ciphers, invisible ink, secret messages, and spying...and how those skills played a deciding role in winning the Revolutionary War. Designed with an authentic 1700's look, this well-documented title will be a hit with students! In a starred review, Booklist called it "handsome, unusual, intriguing."  (Grades 6-9)