George Washington and
the General's Dog
(Step Into Reading, Level 3)
written by Frank Murphy
illustration by Richard Walz
Some books about Washington present the facts of his life in such a serious tone that kids can't relate to the man or get a glimpse of his humanity and character.  Not this book!  This cute, easy reader presents Washington in a way that kids will relate to and admire -- as a kind man who loves and cares for animals and treats others (even enemies) with respect.
This book is based on the little known fact that Washington was a great animal lover, and even had 36 dogs of his own! (Who knew?)  Kids will be amazed and impressed with the story of Washington risking his own life to save a dog on the battlefield. In the annals of history, this action might be just a footnote about our first president, but to children, this act conveys so much about his character and greatness...in a way that they can relate to and understand.
Interest Level:  Kindergarten - Grade 3
Grade Level Equivalent:  1.9
Guided Reading Level: J
D.R.A. Level: 16
Lexile Measure:  380L


Below are sample spreads from inside this book. These pages should give you an idea of the illustration style and the amount/complexity of the text. This book is very in keeping with the Step into Reading series, so if you are a fan of this series already, you will definitely like this selection.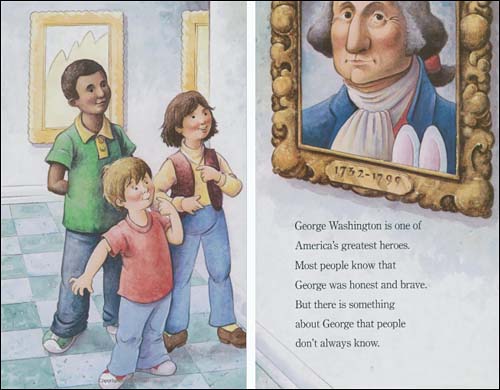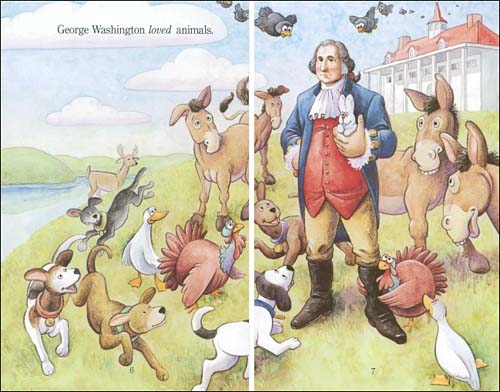 Where to now?
Now that you've seen this great book, what would you like to see now?  Please note that as an Amazon Associate, we earn from qualifying purchases.

   Looking for books on George Washington?  Check out our

sale kids books on Lincoln & Washington

Just $2.75 each!  Check out our list of great kids books about Lincoln and Washington. We often have this fantastic book in our inventory.  If we don't currently have this exact book today, there are likely lots more good books to choose from...all at 50% or more off retail prices!

return to list of George Washington books or American History books or President's Day books