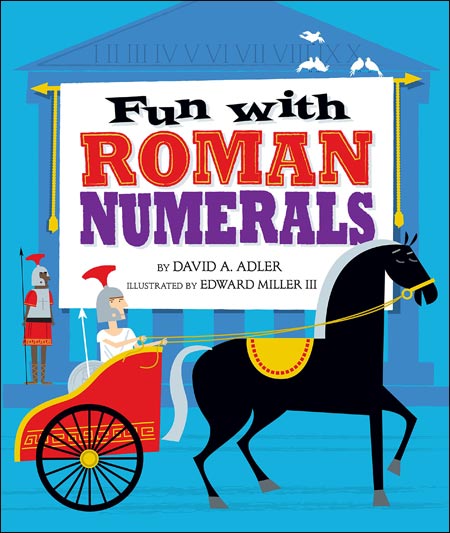 Fun with Roman Numerals
by David Adler; illustrated by Edward Miller
Fun with Roman Numerals uses bold cartoons set in ancient Rome to create a fun introduction to Roman numerals. Adler covers how Roman numerals are used in modern society (watch faces, sporting events, book chapters...) and clear explanations on how they are written and counted (incl hands on activities.) Kirkus Reviews ended their review of this book by saying "This team once again hits a home run."
However, this is probably not a book that you should sit down and read straight through to your students. Roman numerals can get quite complex and if taken in one sitting, this book would probably be information overload. We recommend you break it up into several lessons and pair it with short, hands-on exercises. The author provides a very effective activity using different coins. Plus many other spreads in the book would be good lead-ins to related hands-on activities and exercises.

Reading Level for Fun with Roman Numerals
Interest Level:  Grades 2-5
DRA Level:  30
Guided Reading Level:  N
Lexile Measure:  860L
Read-Aloud vs. Individual Reading:  For kids in second grade, this book will need to be a read-aloud rather than for individual reading, as the reading level will be too high for the majority of them until the end of the year (since the reading level is at where kids generally end their second grade year.) Most kids in third grade and up should be able to read this book on their own.

See Inside Fun with Roman Numerals
Here are some pages from inside of this book -- to give you an idea of the delightful Roman-style illustrations and the text about Roman Numerals. Additionally, many spreads are interactive like this first one, which invites the reader to write their age, then talks about Arabic verses Roman numerals.
(Note: The "Look Inside" feature on Amazon shows the 2008 cover but the interior images are from a 1977 version. To see the difference look at the small orange pictures above (from the 1977 version) and the large blue picture below (from the 2008 version). Be sure to order the newer version. The illustrations are better and the text is not as long. The old one was cute, but the new version is more fun and glossy and clear and....just better. :) )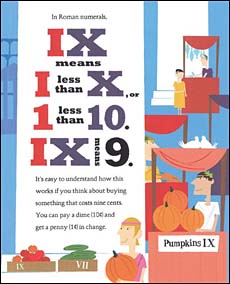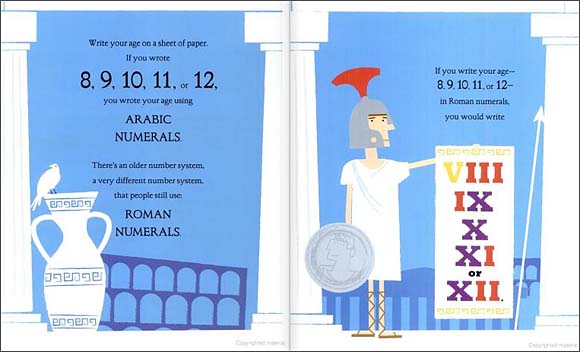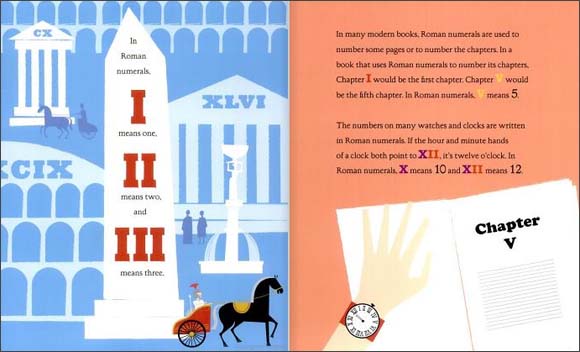 Fun with Roman Numerals Lesson Ideas / Activities

Holiday House, the publisher of this title, has created a two page handout of suggested classroom activities to accompany this fun and educational book. The age level of the activities ranges from Grades 1-5. In addition to five related math activities, the handout also includes art activities, language arts activities, plus for suggestions for online activities and other children's math picture books. To access this handout, visit this page on the Holiday House website and click the link at the bottom under "Activity Sheets."