Four Famished Foxes
and Fosdyke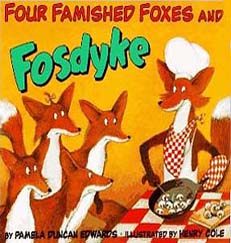 by Pamela Edwards & Henry Cole
A family of foxes are left to fend for themselves when their mother suddenly heads off to Florida for five days. Four of the foxes are excited to go 'filch' some food from the nearby farmyard, while the fifth brother is content to stay home cooking French food. His siblings scoff at his very unfoxlike behavior and head off en search of food. But after three failed attempts to steal the farmer's food, they might just change their tune.

Some of the 'f' words are very obscure (ie...filch, fracas, fray. flimflam). These will have to be explained, most likely, and that drags the overall experience down a little bit. (Of course, if you are reading the book aloud to your class, you could also just substitute a more familiar synonym.) In addition to the 'f' focus in the text, illustrator Henry Cole has included 60 items that start with an 'f' in the pictures throughout the book, and invites readers to look for them. That's always a big hit!

Reading Levels
Interest Level: K-Gr. 4                    Lexile Measure:  AD570L


See Inside
Below is an early spread in the book, showing four of the five fox siblings peaking outside their den as they prepare to go hunting for food. The text reads: "Once down a foxhole lived a family of fox kits. There was Frank, there was Floyd, there were Freddy and Flo." (The fifth sibling is Fosdyke, who is inside the den and totally uninterested in hunting. He prefers cooking instead!)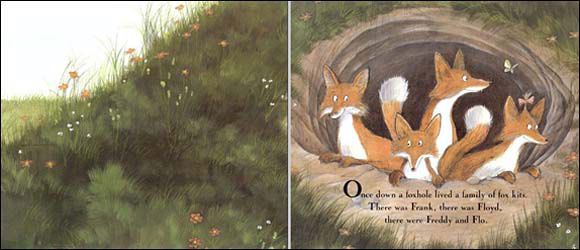 Where to now?
Now that you've seen this great book, what would you like to see now?  Please note that as an Amazon Associate, we earn from qualifying purchases.