Fish Eyes: A Book You Can Count On
by Lois Ehlert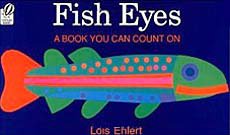 Fish Eyes is a counting book of vibrantly colored fish that float across the spreads in increasing numbers from one to 10. Each spread also includes die cut holes where the fish eyes should be (hence the title). Kids love to stick their fingers through the holes, and they provide a fun a peek into the colors of the next page. 
This isn't our top pick for teaching counting, but kids in preschool and Kindergarten do really like the "flashy fish" (PW)  and the major book review companies are fairly glowing about the book.  In fact, Booklist said it was "a visual treat from start to finish."  We do like it, but perhaps not that much.  But... if you are looking for a book for teaching counting, this title is a solid choice.  And, Scholastic has a fun related activity for this book.
Reading Levels

Interest Level: PreS-Gr.1           DRA Level: 16                  Lexile Measure: NP       
Grade Level Equiv: 1.5              Guided Reading:  I


See Inside Fish Eyes

Below are two sample spreads from inside this book. As you can imagine, it's much better when viewed in actual size (these little versions look a little ho-hum).  However, hopefully our samples will at least give you a small idea of what the inside of this book looks like.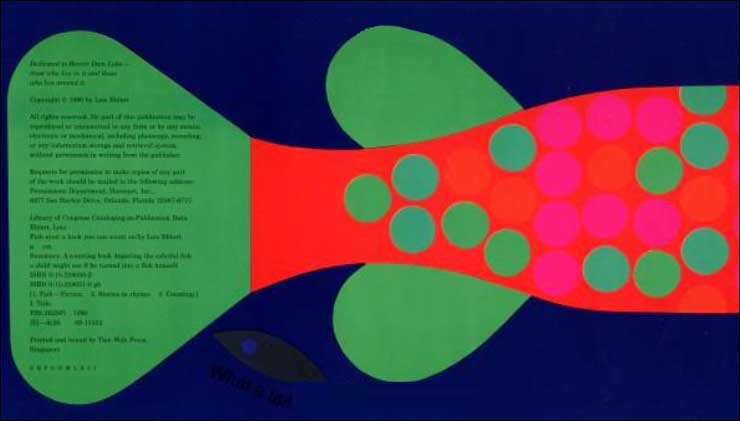 Where to now?
Now that you've seen this great book, what would you like to see now?  Please note that as an Amazon Associate, we earn from qualifying purchases.

---
You may also want to check out other books by Lois Ehlert. With her bold colors and simple lines, these books really appeal to young children.  We use a number of them in our classes every year (especially her fall-themed books.) To learn more about her books, click on the book covers below or the authors name above.