Fancy Nancy Halloween Books
Halloween...or Bust!  -and-  Candy Bonanza


No one does Halloween like Fancy Nancy!  These two darling books feature the irrepressible Nancy in her full curly, girly magic. Check them out: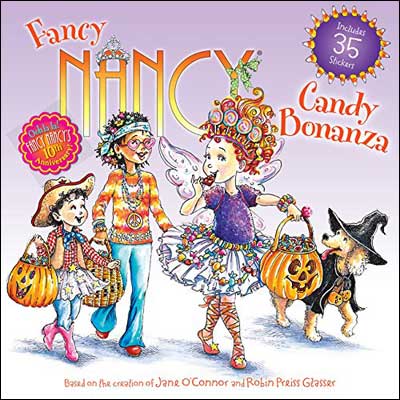 Fancy Nancy: Candy Bonanza
by Jane O'Connor; illustrated by Robin Preiss Glasser
Kids can certainly relate to the problem posed in this book!  Nancy is trick or treating and is so excited about all the candy that she's getting that she can't help herself from eating them right away. The result is a tummy ache for poor Fancy Nancy!  This isn't our favorite in the series, but it's fun for Halloween.

Fancy Nancy: Halloween...or Bust!
by Jane O'Connor; illustrated by Robin Preiss Glasser
Nancy loves dressing up and loves Halloween, but when she has a little costume malfunction, it's up to the readers to help her solve it.  (She's dressed as a bunch of grapes made of balloons, and some of them pop. Readers use stickers to help her create a costume again.)

Reading Levels
Interest Level:  Kindergarten - Grade 2                       Grade Level Equivalent:  2.0                          Guided Reading Level:  M
Lexile Measure: 460L                                                  DRA Level:  24


Below are sample pages from inside Fancy Nancy Halloween or Bust!  Don't you just LOVE Fancy Nancy illustrations--so many little details one every single page:






If you like these Fancy Nancy Halloween books, check out the other books in the series.  If you haven't heard of the Fancy Nancy series before, she's a HUGE hit with some kids.... almost an addiction. :)  If you don't yet know about this series, it's worth checking out. The little delicate illustrations are so cheerful and bright.  And Nancy's positive attitude is a great role model for young ones.