Inside
Fall Leaves Fall
Below are some sample pages from inside

Fall Leaves Fall

. At the small sizes that we are showing them, you can't quite see how the illustrations are paper collages, but the close-up at the top of this page should give you an idea of the three-dimensional, collage look.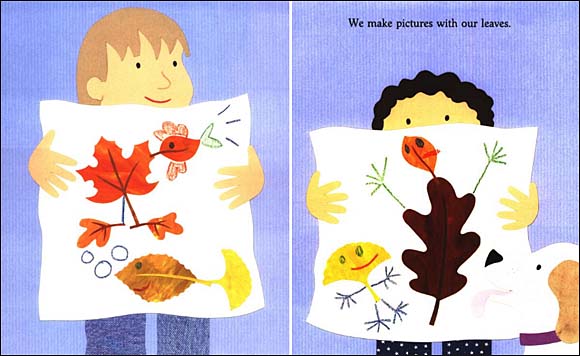 As you can see, these pages are devoted to how kids interact with fall leaves. The illustration on the left is part of a spread about

collecting

leaves while the spread on the right is about

playing in

the leaves. The text reads: "We like to stomp on the leaves -- CRUNCH! / We like to kick the leaves, too..."
Another thing you can do with leaves is collect them to make art. Something you probably do with your students too. That's why we like this book... it's all about what kids DO with leaves. :)





buy this book from Amazon

--or--

return to fall books for children




Related Activity