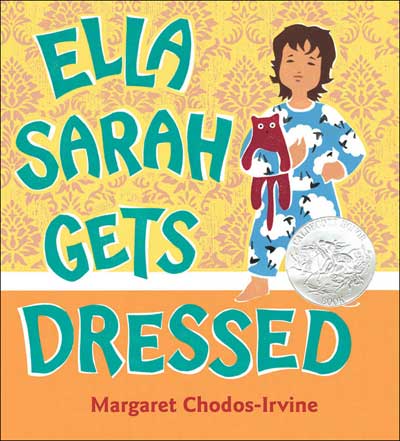 Ella Sarah Gets Dressed
by Margaret Chodos-Irvine

Ella Sarah Gets Dressed is an adorable picture book that tells the story of little Ella Sarah, who is very clear on what she should wear and refuses to budge an inch! With every new suggestion from her family (who want her to dress like they do), she simply repeats the exact outfit that she wants to wear. In the end, that's exactly what she does wear, and when her equally flamboyantly dressed friends arrive for a tea party, readers will be glad she got her way!
The simple storyline is cute and certainly something that kids can relate to, and we love that it celebrates the budding independence of children this age. And another thing we really like about this book are the illustrations, especially all the vivid colors and the fun patterns on the wallpaper, bedding, clothing, etc. This is definitely for preschool and Kindergarten, as grade school kids will most likely find it too 'babyish' for their big kid sensibilities.


Ella Sarah Gets Dressed Reading Level

Interest Level:  Preschool - Grade 1
DRA Level:  10
Lexile Measure:  810L
Grade Level Equivalent:  1.7
Guided Reading Level:  F
Read-Aloud vs. Individual Reading: For kids in preschool and Kindergarten, this book will need to be a read-aloud rather than for individual reading, as children generally do not read on the reading level (difficulty level) of this book until about half way through first grade. For first graders, kids may be able to read this independently, depending on their reading level.  However, some first graders may find the subject matter and main character to young for their 'big kid sensibilities.'

See Inside Ella Sarah Gets Dressed
Below are three sample spreads from inside this delightful, cheery book. A variety of printmaking techniques were used and the result are these pages with "a strong graphic punch"!  (Publisher's Weekly)  "The vibrant yellows, oranges, pinks, and purples work together surprisingly well-Ella Sarah doesn't look as shocking as one would imagine."  (School Library Journal)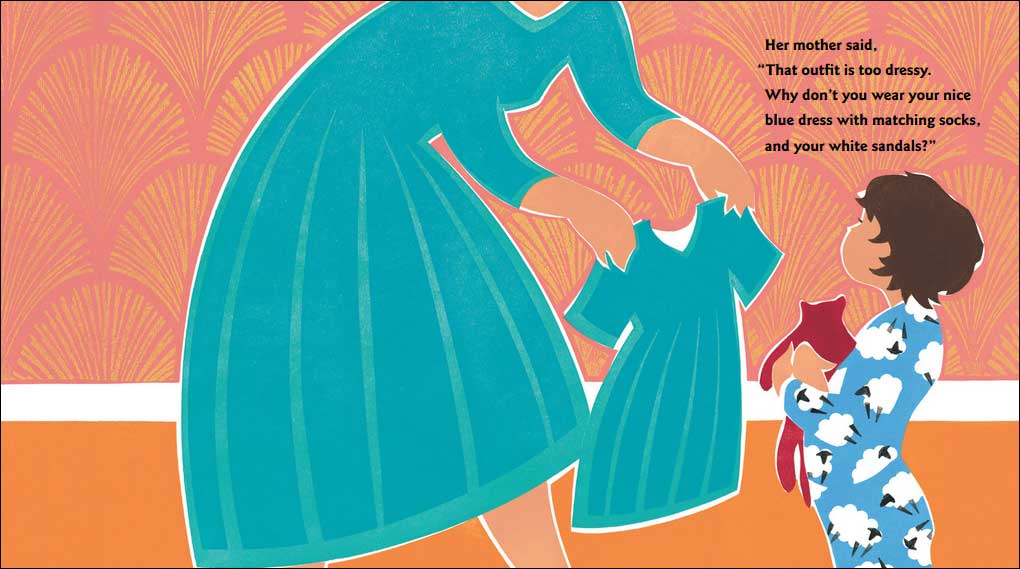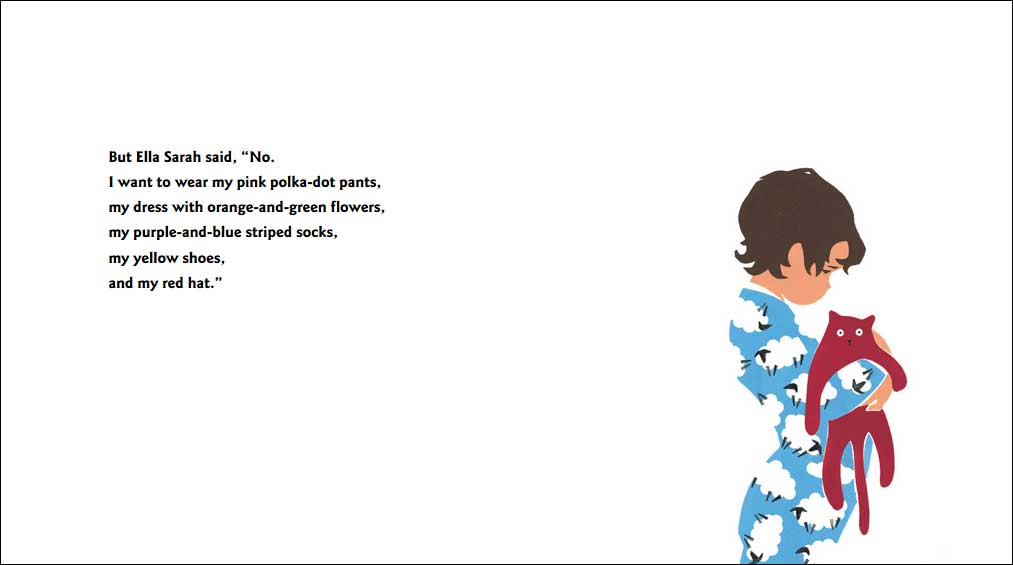 Ella Sarah Gets Dressed Lesson / Activity Ideas

There are quiet a number of lesson/activity ideas available for Ella Sarah Gets Dressed on the popular teacher website teacherspayteachers.com.  Check them out!  (If you aren't familiar with this site, it's full of lesson plans, activities, learning games, and other curriculum materials made by teachers. We LOVE the site!!).
We found one simple, cute and FREE one that can be used for a simple retell activity.  A few sample pages are right.  To access this FREE resource, click here:  Ella Sarah Gets Dressed lesson / activity idea