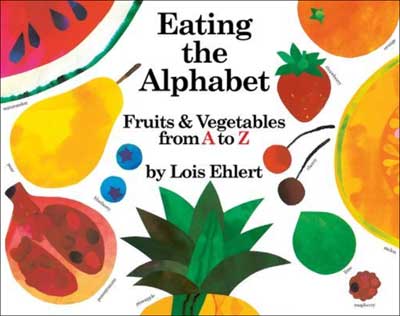 Eating the Alphabet:
Fruits & Vegetables from A to Z
by Lois Ehlert
"Apple to Zucchini, come take a look. Start eating your way through this alphabet book."  In this vibrantly colored picture book, children not only get exposure to alphabet letters, but also learn about different fruits and vegetables from all over the world. If you are a fan of Lois Ehlert's vibrantly colored, cut paper illustrations, this one certainly won't disappoint!  "Ehlert's glorious watercolor collages are lively and enticing...Both parents and children will be encouraged to sample exotic new foods at mealtime."  (Publisher's Weekly)


Eating the Alphabet Reading Level

Interest Level:  Preschool - Gr. 3
Guided Reading Level:  N
DRA Level:  30
Grade Level Equivalent:   2.5   

Read-Aloud vs. Individual Reading: For kids in preschool thru second grade, this book will need to be a read-aloud rather than for individual reading, as the reading level will be too high for the majority of them. Some second graders may be able to read this book on their own at the end of the year, and third graders should be able to read this one on their own.

Awards and Honors for Eating the Alphabet

  - Booklist Editors' Choice Children's Book
  - American Bookseller's Children's Book Pick
  - Parenting Magazine Reading Magic Award

See Inside This Book

Below is a sample spread from this book. We love Ehlert's vibrant illustrations. Makes us want to go eat some veggies!




Where to now?
Now that you've seen this great book, what would you like to see now?  Please note that as an Amazon Associate, we earn from qualifying purchases.