Down, Down, Down: A Journey to the Bottom of the Sea
by Steve Jenkins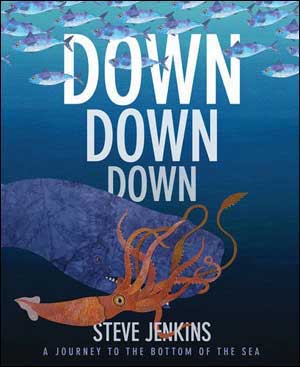 Journey 'down, down, down', from the surface of the ocean to the deepest point on the ocean floor--the Mariana Trench. En route, discover amazing sea creatures rarely seen--like jellyfish that flash neon lights or a squid that is as long as a school bus!
This unique top-to-bottom approach is very helpful in showing the layers of oceanic life, from birds that fly above the surface all the way down to the deep ocean thermal vents...and a look at the many layers in between. Your students will be amazed at all the oceanic life they've never even heard of before.

This book is perfect for lessons on the ocean habitat and aquatic life, but it also makes for a great 'any day' read-aloud. Just be sure to place it in your classroom library too because Jenkins's cut paper collages beg for individual, 'up close' examinations.
Interest Level:  Kindergarten - Grade 4

Below are sample spreads from inside Down, Down, Down. In their review, The New York Times Book Review said this book is illustrated with an "almost magical use of cut paper." That's exactly how we feel about all Steve Jenkins books, and our little 'sample spreads' that we include on our pages just cannot do the illustrations justice. When viewed actual size, this spread is stunning, with the squid and dolphins and shark appearing as if jumping OFF the page. Check it out in person for yourself. Trust us, you won't be able to keep your fingers off these seemingly 3D pages!



Where to now?
Now that you've seen this great book, what would you like to see now?  Please note that as an Amazon Associate, we earn from qualifying purchases.