Did a Dinosaur Drink This Water
(Wells of Knowledge Science series)
by Robert E Wells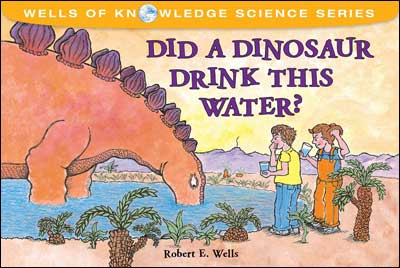 Did a Dinosaur Drink This Water is another fun and educational title from Robert Wells! This title covers a lot of ground, all related to the earth's water supply. About half the book is devoted to the water cycle, with the main characters flying around in a odd little helicopter to see the water cycle in action. And, in addition to discussing the water cycle for kids, this book touches on other water-related topics like ocean currents, ocean and freshwater habitats, hydroelectricity, water conservation...
This book does an excellent job of teaching how the water we have on earth today is the same water that has been cycling through the different stages of the water cycle for millennia (hence the title.) Your kids will never look at water the same way again! In their review, Booklist called Did a Dinosaur Drink this Water a "playful but sound introduction to the water cycle." And Kirkus Reviews called it "an excellent resource for elementary students."  We agree.

It could be argued that this book tries to cover too much ground in just 32 illustrated pages, but the explanations are clearly written and age-appropriate. We suggest you preview the book ahead of time to see if there are any parts you should skip over.


Did a Dinosaur Drink This Water Reading Level

Interest Level:  1st - 5th grade
Guided Reading Level:  P
DRA Level:  38
Lexile Measure:  860L
Read-Aloud vs. Individual Reading:  For kids in first, second and third grade, this book will need to be a read-aloud rather than for individual reading, as the reading level will be too high for the majority of them. Some third graders may be able to read this book on their own at the end of the year (as the reading level of this book matches where most kids read at the end of third grade).  Most fourth and fifth graders should be able to read this one on their own.


See Inside
Did a Dinosaur Drink This Water 
Below are sample spreads from inside Did a Dinosaur Drink this Water. Fans of Robert Wells will recognize his trademark ink and watercolor cartoon illustrations and hand-lettered writing. The first page is actually the first one in the book, setting the scene by stating the importance of water. The second page occurs about half way though the book and provides a peek into how this book explains the water cycle. Wells has his two main characters traveling around in this odd little red helicopter-type thing as they check out different aspects of the water cycle.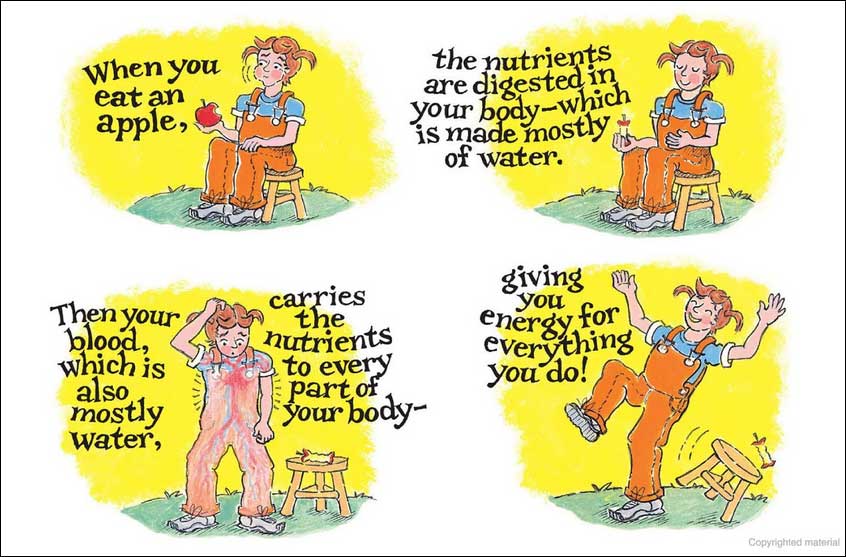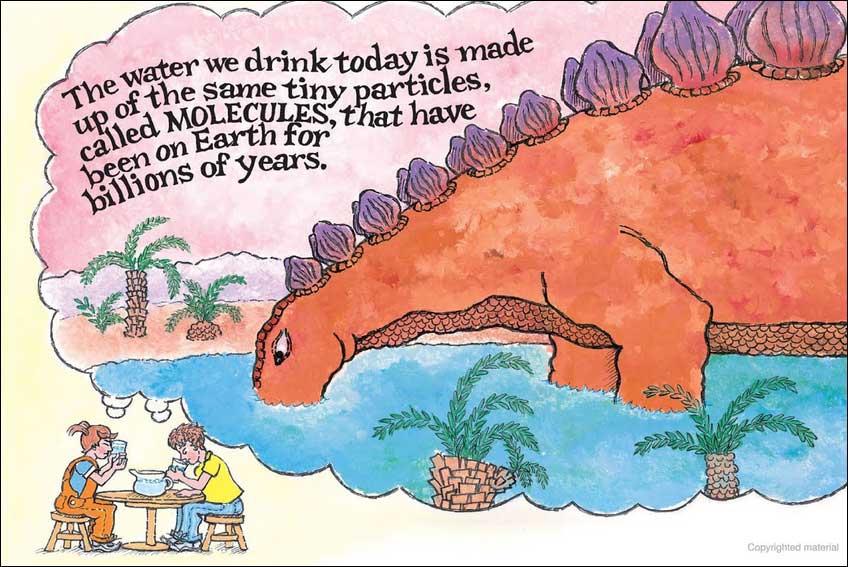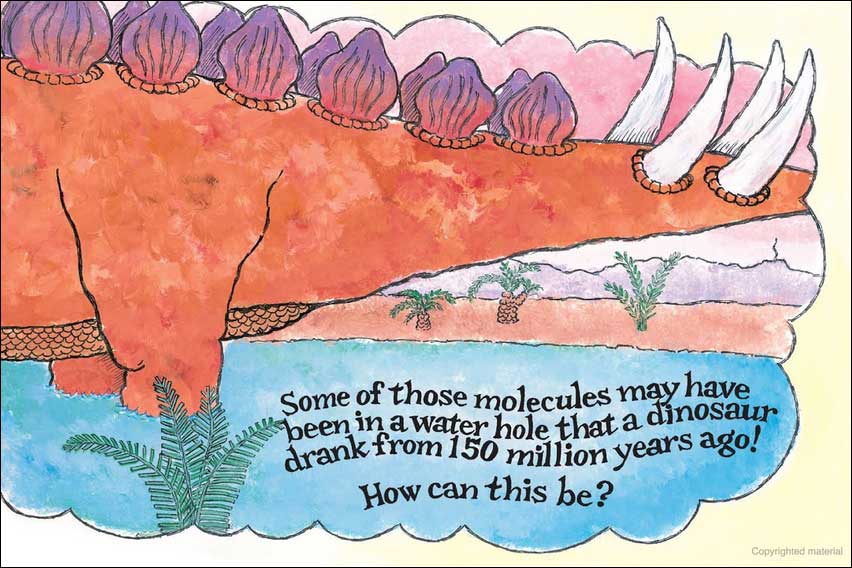 Where to now?
Now that you've seen this great book, what would you like to see now?  Please note that as an Amazon Associate, we earn from qualifying purchases.

You should check out other books in the Wells of Knowledge science series. They are very well done, each answering lots of those common childhood questions or 'wonderments'!  To learn more, click on the book covers below or link above.