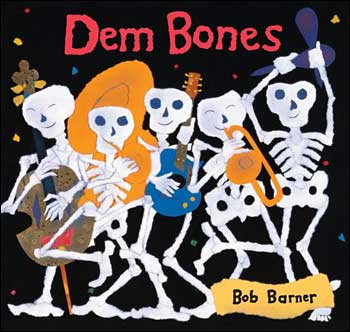 Dem Bones by Bob Barner

Dem Bones is an exploration of the human skeletal system, using the well-known folk song 'Dem Bones.' Each spread is devoted to a line of the song, with the featured bone highlighted in red and relevant information about that bone clearly explained. We agree with Publisher's Weekly, who called this book a "clever anatomy lesson." The song is most likely familiar to many students and teachers, but this book adds a fun, Day of the Dead twist with colorful collages depicting a funky skeleton band, each made from cut and torn paper.
"No bones about it, this will be a real boost for those looking to inject a little humor and fun into basic facts about the human body."  (Publisher's Weekly)

To avoid disrupting the rhythm of the text/song, you will probably want to read this book through twice. (It's short!) The first time, maybe just read the words of the song and show the great collage art. Then, on the second round, you can read the descriptions of the bones. Descriptions talk about the movement of the bone, so in the second read through you could have the students make the movement themselves.


Dem Bones Reading Level

Interest Level:  Kindergarten-4
Guided Reading Level:  O
DRA Level:  34
Lexile Measure:  AD930L
Read-Aloud vs. Individual Reading:
This book will need to be a read-aloud rather than for individual reading for kids in Kindergarten to 2nd grade, and even many third graders, since children generally do not read on the reading level (difficulty level) of this book until the middle  of third grade. The majority of fourth graders should be able to read this book independently.

See Inside Dem Bones

Below are sample spreads from inside this book. Each spread focuses on a part of the body, lists the verse from the song, and includes a short paragraph about the bone being featured---in this case the neck bone.  See what we mean about the fantastic collage illustrations and the Day of the Dead look!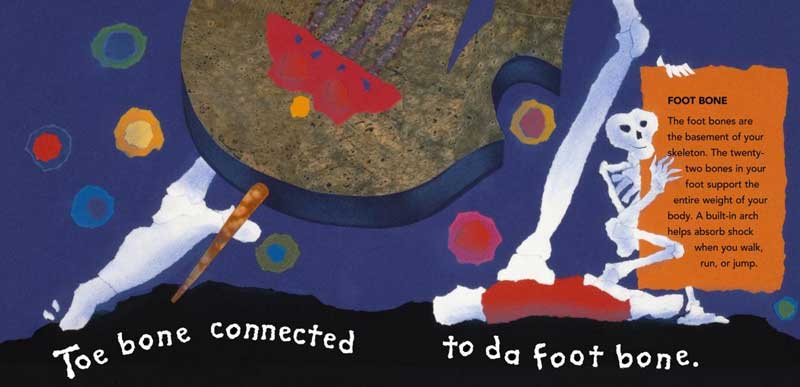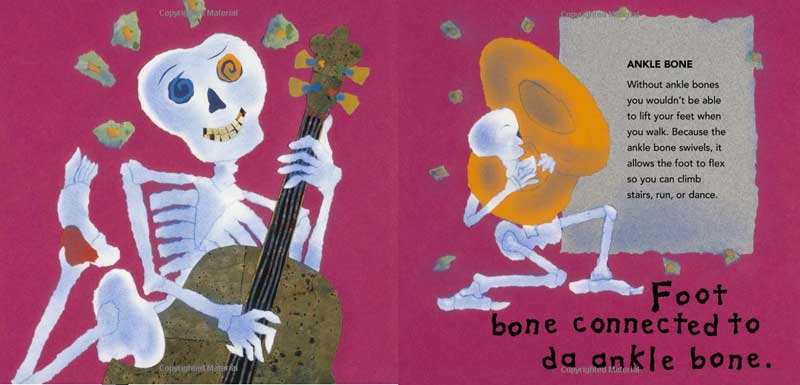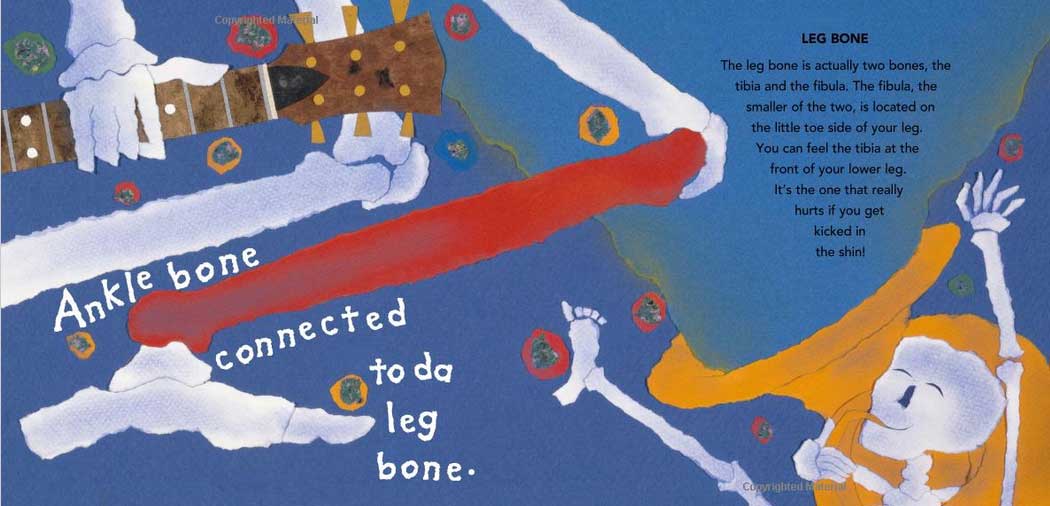 Lesson / Activity Ideas

for Dem Bones


Skeleton Dance (*young children)
After you read this book, you can add to the fun by playing this Dem Bones YouTube video and have your class sing along. To access the free video, click here


Labeled Skeleton Art Project
Combine a little art with a little science in this fun project that has kids making a skeleton out of yarn and then labeling the parts of the skeleton. This project is easily adjusted to fit the level of your students, but regardless of the age, the results are fun and fabulous.

For the project, you need:
-white and red yarn
-black paper
-strips of yellow paper
-scissors
-glue that dries clear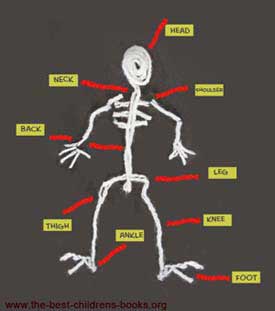 Instructions:
-Use a pencil and VERY lightly draw in a skeleton on black paper. It doesn't need detail---a stick figure will do. (You're just trying to avoid a student getting half way through and realizing they haven't left enough room.)
-Cut out strips of white yarn and glue them on as the bones. It can be simple for younger students and more detailed for older students.
-Write the different bone parts on the small strips of yellow paper and set them down around the exterior of the skeleton.
-Using the red yarn, connect the bones to the yellow label. Once all the labels and yarn is set in place and fits, they can be glued down.

***The last spread of the book has a big skeleton laying on its side with all the bones labeled. Use this page for students to refer to when labeling their skeleton.

Younger students -- Use the words in the song (head, neck, leg...)
For older students -- Use technical terms (tibia, femur, radius)