Darwin: with Glimpses
into his Private Journal and Letters

Darwin: with Glimpses into his Private Journal and Letters
by Alice McGinty
illustrated by Mary Azarian

A cheerful, inspiring portrait of Darwin that highlights two traits teachers aim to encourage in students-- curiosity about the world and determination to learn more. This simple narrative covers the main events in Darwin's life, from his childhood all the way up to the presentation of his theory.
Spreads are accompanied by stunning detailed woodcuts by the illustrator of Caldecott book Snowflake Bentley. School Library Journal ended their starred review with: "Biographies of scientists can be challenging to write for an audience unfamiliar with their research, but this one succeeds in introducing Darwin and his work to a surprisingly young group."

Reading Level
Interest Level:  Grade 2-5
Lexile Measure:  1060L


Below are sample pages from inside this beautifully illustrated book.  Fans of Mary Azarian's illustrations will recognize her stunning woodcut illustrations: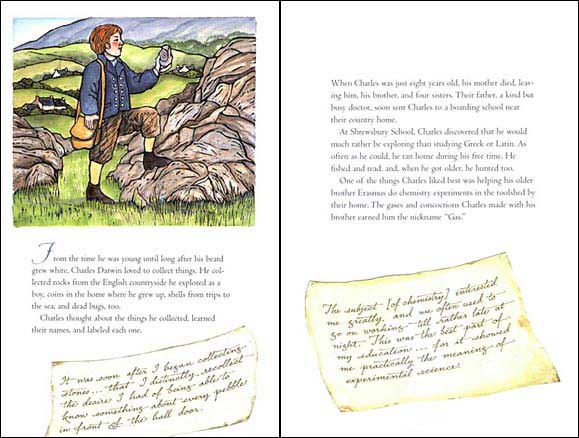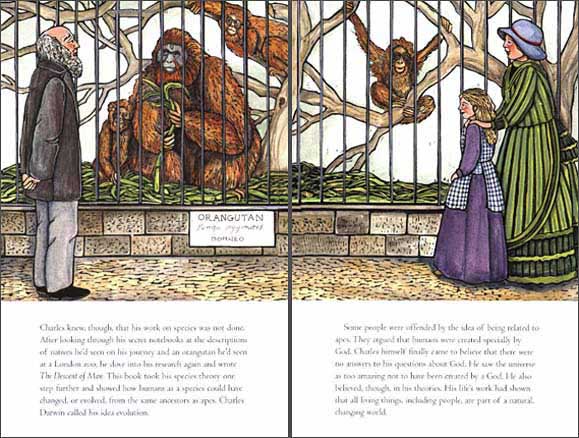 Where to now?
Now that you've seen this great book, what would you like to see now?  Please note that as an Amazon Associate, we earn from qualifying purchases.

---


You may also want to check out other books illustrated by Mary Azarian, such as those shown below. To learn more, click on the book covers below. :)