Dark Emperor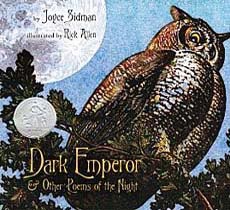 written by Joyce Sidman
illustrated by Rick Allen
Dark Emperor evocatively depicts the nocturnal creatures and happenings of the forest ecosystem. Using a number of different rhyme schemes and poetic forms, the 12 poems on double-page spreads are full of interesting information about each creature and are accompanied by elaborate illustrations that, like the poems, are full of informative details.
This book has so many classroom applications! Sidman's poems convey fascinating and accessible facts about each creature and its habitat, and her use of different poetic forms makes the book quite helpful in poetry lessons. Add to that Allen's elaborate illustrations, which convey a wealth of information about the animals and their environment (even showing the "cushion of slime" on which the snail glides along!) Together, the evocative poetry, the interesting biological facts, and the stunning woodcut illustrations make this a 'must have' book for elementary school classrooms.
Awards Won by this book

- Newbery Award Honor Book 2011
- Lee Bennett Hopkins Poetry Award Honor Book
- Boston Globe/Horn Book Award Honor Book
- Nat'l Council of Teachers of English Notable Children's Book in Language Arts
- Booklist Editor's Choice Children's Book Award
- Nat'l Science Teachers Association Outstanding Book
Dark Emperor Reading Levels

While the interest level is for the middle grades, the reading level is pretty high. Consequently, this book is better suited as a read aloud to this audience rather than book bins/the classroom library.

Interest Level:  Gr. 3-6          Grade Equivalent: 8.6            Lexile Measure:  1020
See Inside Dark Emperor

Below is a sample spread from inside this book. Click the image to see a larger version--where the text is legible enough so you can get an idea of Sidman's evocative poetry and Allen's stunning and unique illustrations that were created via a linoleum-block printmaking technique.


click image to see larger version.
Dark Emperor Lesson / Activity Ideas

On Joyce Sidman's website, you will find a teachers section with a poetry kit, poem starters, a poetry challenge, and more. To access the site, click here.


---
Joyce Sidman has a lot of great children's books. If you enjoy this award-winning book, be sure to check out Joyce Sidman's other books.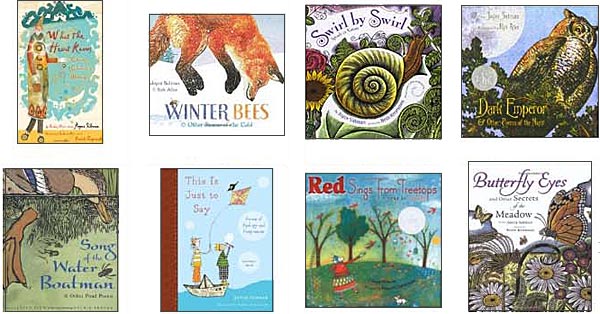 ---