Dangerous Crossing: The Revolutionary
Voyage of John & John Quincy Adams
Interest Level:   Grades 2-4
written by Stephen Krensky
illustrated by Greg Harlin
At the height of the Revolutionary War, John Quincy Adams was sent on a secret mission to France--a mission that required a dangerous Atlantic crossing in winter. The voyage couldn't wait for calmer seas because the situation in the colonies was dire, and revolutionary leaders knew that aid from France was crucial to win independence from Britain. Adams and his young son selflessly and bravely undertook the voyage in order to help the colonies achieve freedom.
School Library Journal called the book " engaging historical fiction with illustrations that truly bring the story to life. And Booklist ended it's positive review of the book by saying, "Written in third person, except for the occasional quote from the actual diary, the story offers a stirring account of life aboard ship, spiced with details from the voyage."

Below are sample spreads from inside this book. Such stunning illustrations, even in our small sample versions below: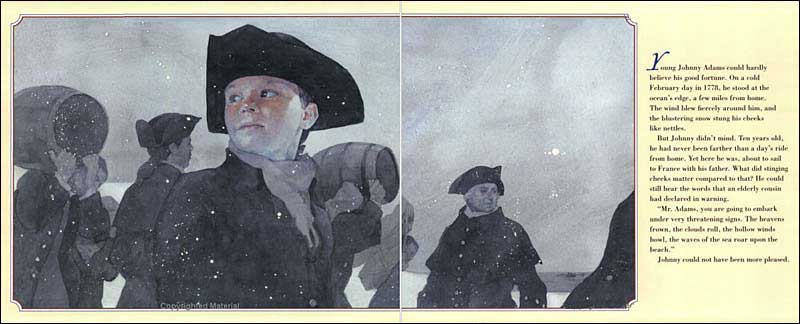 Where to now?
Now that you've seen this great book, what would you like to see now?  Please note that as an Amazon Associate, we earn from qualifying purchases.