DK Eyewitness Books:

Money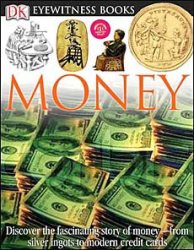 Subtitle: Discover the fascinating story of money--from silver ingots to modern credit cards 
by Joe Cribb
In characteristic DK Eyewitness style, this book is chock full of all things related to money, including its history, its production, its cultural significance, and even how it's forged. What did money look like in ancient Egypt? How does one determine if a bill is forged?  It's all here in this visually stunning title.
The New York Times called it "a mini museum between the covers of a book" and this title certainly fits that bill.  As with all books in this series, it's not a read-aloud. It's a book for your classroom library, a source book for student reports, or a resource for educators/parents.


Reading Levels       Grade 3 - Grade 6


See inside    Below is a sample spread from inside this book:



Please note that if you purchase an item from Amazon, they give us a small referral fee. And that helps us cover the costs of this website.


---