Cut Down to Size at High Noon:
A Math Adventure

By Scott Sundby & Wayne Geehan
Set in the Old West in the fiction town of Cowlick, this fun book by Scott Sundby and Wayne Geehan tells the story of a big scale drawing showdown (with scissors instead of guns!) between tough- talking newcomer Buzzsaw Bart and the town's much loved barber. The goal of the showdown? To create the most magnificent hairdo.

While this may seem like a silly premise, it definitely works! Your students will be eager to see each newly scaled creation. Read this title at the start of a hands-on activity on scaling, and you will have a class of motivated workers!
Reading Levels
Interest Level: Grade 3 - 8
DRA Level:  40
Lexile Measure:  800L
Grade Level Equivalent:  4.4
Guided Reading Level:  Q


Below are two sample spreads from inside this book: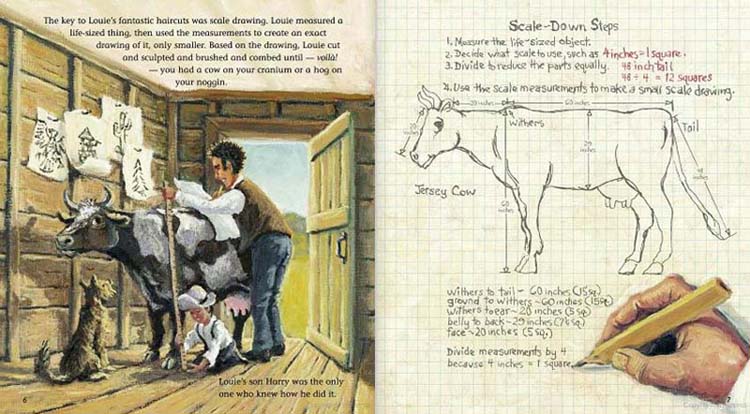 Where to now?
Now that you've seen this great book, what would you like to see now?  Please note that as an Amazon Associate, we earn from qualifying purchases.

There are lots more books illustrated by Wayne Geehan. Kids think they are fun and we think they are such great teaching aids!  To learn more about his math-themed picture books, click the images below or the link above.