Click, Clack, Splish, Splash:
A Counting Adventure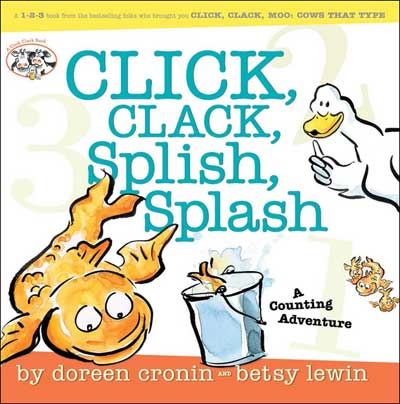 by Doreen Cronin
illustrated by Betsy Lewin
More farmyard antics with the Click, Clack, Moo gang. In this book, duck and friends are on a rescue mission, but readers don't find out exactly who is being rescue until the end. Each step in the mission involves increasing numbers (3 buckets piled high, 4 chickens standing by...) 

Part of the hilarious Click, Clack series, which all started with the Caldecott Award winner Click, Clack, Moo: Cows That Type.  That was such a huge hit that more books followed.
This particular book did seem a little short--as if it's over before it really gets started--but if you're looking for a fun book to read aloud to preschoolers who are just learning numbers 1-10, this is a great pick, especially since each page includes a large numeral in addition to the text and illustration.

Click, Clack, Splish, Splash

Reading Level



Interest Level:  Preschool - Grade 1
DRA Level:  12
Lexile Measure: 300L  
Grade Level Equivalent:  1.0
Guided Reading Level:  G
Read-Aloud vs. Individual Reading:
For kids in preschool, Kindergarten and part of first grade, this book will need to be a read-aloud rather than for individual reading, as the reading level will be too high for the majority of them. Some first graders will be able to start reading this book during their first grade year (as the year moves on), but the content will likely be too simple for kids this age.

See Inside Click, Clack, Splish, Splash
Below is the first spread from this cute book. Fans of the Click Clack series will recognize the fun illustrations and the same darling characters (ie: farmer, duck...).
Where to now?
Now that you've seen this great book, what would you like to see now?  Please note that as an Amazon Associate, we earn from qualifying purchases.

check out all the books in the popular Click, Clack series