Click, Clack, Quackity-Quack: An Alphabetic Adventure
by Doreen Cronin
illustrated by Betsy Lewin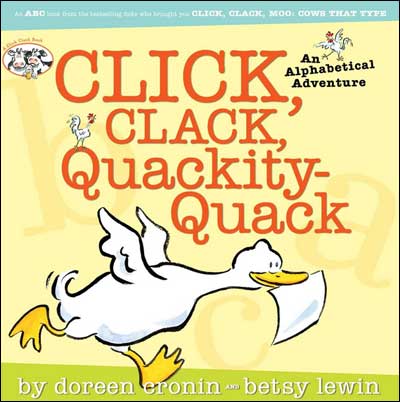 The cows are at it again, and Duck can't wait to show everyone their latest note. Just what are they up to this time? Duck's not telling, but if you follow the alphabet one letter at a time, you'll find out..and have as much fun as the animals are going to have!

This book is most appropriate for preschoolers. In fact, School Library Journal predicts that "this adventure will have more appeal to preschoolers than the original story that inspired it." However, kids up to first grade will enjoy it too. And Booklist promises that "preschoolers will learn the alphabet sounds as they act out the animal bedlam and point to the silly scenarios in the uproarious cartoons."
This book won a number of awards, including the International Reading Association  Children's Choice Award and the Bank Street Best Books of the Year List.

Click, Clack, Quackity-Quack
Reading Level
Interest Level:  Preschool - Grade 1
DRA Level:  16
Lexile Measure: NP450L
Grade Level Equivalent: 1.5
Guided Reading Level:  J
Read-Aloud vs. Individual Reading:
This book will need to be a read-aloud rather than for individual reading, as the reading level will be too high for the majority of kids in the intended audience. Some first graders may be able to read this book on their own (as the year moves on), but most will need extra support or have this book read aloud.

See Inside Click, Clack, Quackity-Quack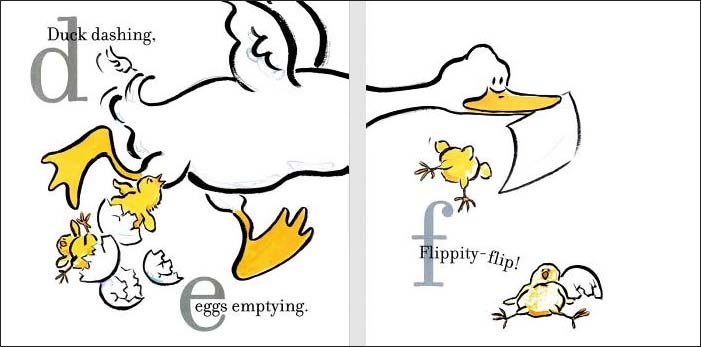 Where to now?
Now that you've seen this great book, what would you like to see now?  Please note that as an Amazon Associate, we earn from qualifying purchases.