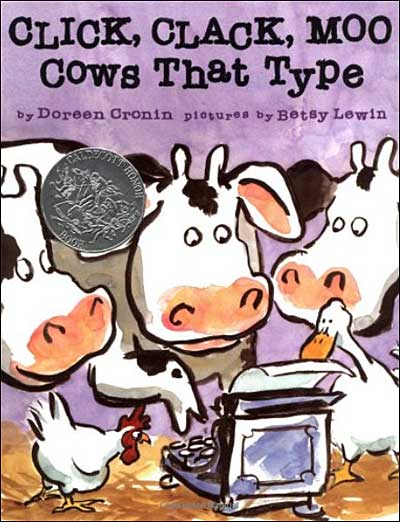 Click, Clack, Moo, Cows That Type
by Doreen Cronin
illustrated by Betsy Lewin
In Click, Clack, Moo, Cows That Type, barnyard animals unite to improve their conditions in this hilarious book. Farmer Brown is dumbfounded when his cows find a typewriter and begin airing their grievances and making demands (ie: "The barn is cold at night. We'd like some electric blankets). When their demands are not met, they go on strike, much to the dismay of poor Farmer Brown.
This book has such a goofy premise and fun line and watercolor illustrations, it's one of those rare, we-100%-guarantee-it storytime hits! In fact, it was so popular that Cronin and Lewin have written a slew of sequel books that are equally inventive and fun!
This book won a slew of children's book awards!  Most notably, it was the 2001 Caldecott Medal winner and was the International Reading Assoc. Children's Choice Award Winner!


Reading Level for

C

lick, Clack, Moo, Cows That Type:
Interest Level: K - Gr. 2
DRA Level: 24
Lexile Measure: AD160L 
Grade Equivalent: 1.3
Guided Reading: M

Read-Aloud vs. Individual Reading:
For kids in first to third grade, this book will need to be a read-aloud rather than for individual reading, as children generally do not read on the reading level (difficulty level) of this book until the end of third grade. The majority of fourth and fifth graders should be able to read this book independently.

Awards and Honors:
Caldecott Honor Book
ILA/CBC Children's Choices
Children's Literature Choice List
Irma S. Black Award Honor Book (Bank Street)
New York Knickerbocker Award Winner


See Inside

C

lick, Clack, Moo, Cows That Type:
Below are sample spreads from the beginning of this book. Betsy Lewin's illustrations are a perfect compliment to Doreen Cronin's hilarious text.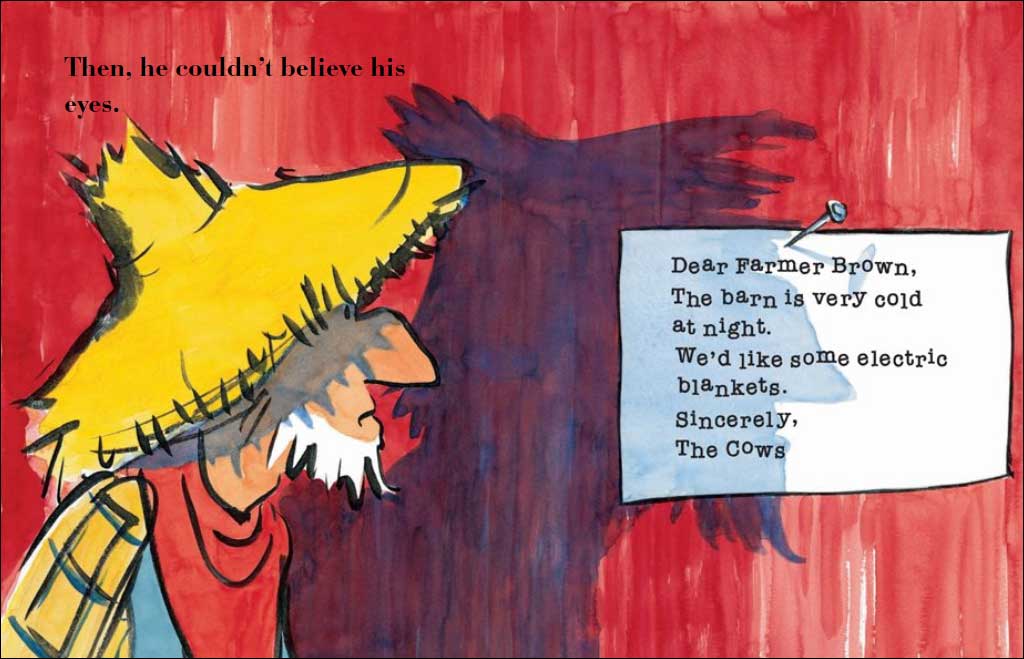 C

lick, Clack, Moo, Cows That Type
Lesson / Activity Ideas
Although it was probably not Cronin's intent, this certainly is a fun book to read when introducing letter writing in the younger grades. The animals actually do quite a nice job of including most of the key components of a letter. (For example, one letter reads: "Dear Farmer Brown, / The barn is very cold at night. We'd like some electric blankets. / Sincerely, / The Cows").  You could even build on this silly premise by having students compose pretend letters from their own pets about what they would like from their owners. [If they don't have pets, perhaps have them choose zoo animals.]
And there are quiet a number of lesson/activity packets available for Click, Clack, Moo, Cows That Type on the popular teacher website teacherspayteachers.com.  (If you aren't familiar with this site, it's full of lesson plans, activities, learning games, and other curriculum materials made by teachers. We LOVE the site!!). Many have a lot of positive reviews.  We found one cute idea that suggest "after discussing what the cows and the ducks asked Farmer Brown for, have students think about what other farm animals might need and ask for."  This activity is FREE!!!! Small versions of these pages are included below. Access this idea here: Click Clack Moo lesson / activity idea