Click, Clack, Boo: A Tricky Treat!
by Doreen Cronin; ill. by Betsy Lewin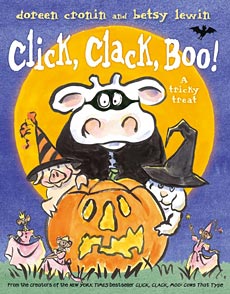 Farmer Brown doesn't like Halloween, with all its witches and costumes and jack o'lanters. So, he decides to stick some candy out, close the shutters, and skip it all together. 
But, as fans of the series might guess, the barnyard animals have something entirely different in mind. They do want to celebrate Halloween, and have some fun trickery up their sleeve.
This book will be a hit with kids, especially those familiar with the series (and thus excitedly predicting that the animals will certainly thwart Farmer Brown's plans). 

This book is perfect for this audience at Halloween time -- just a touch of fun Halloween spookiness but certainly not enough to scare any young ones.
Interest Level:   Kindergarten - 3rd grade

Below are the first two spreads from inside this book. Fans of the series will recognize Lewin's broad, black lines and watercolor paintings. Good stuff. :)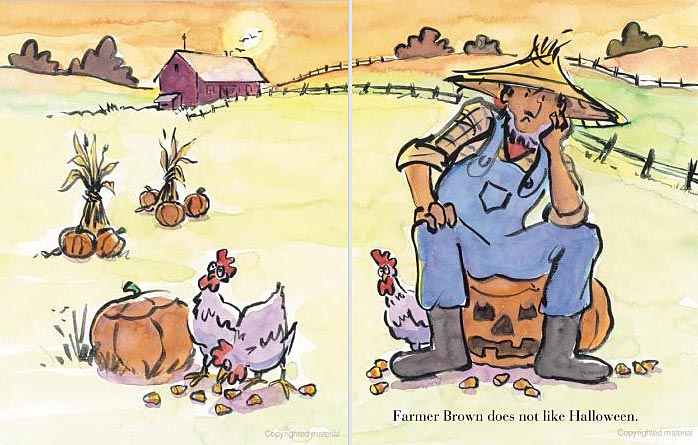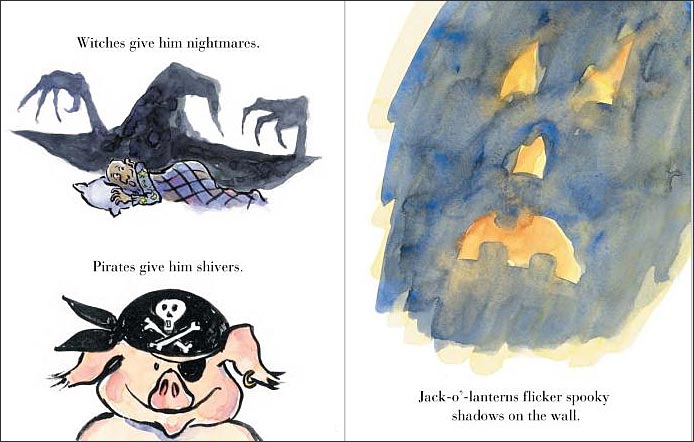 Where to now?
Now that you've seen this great book, what would you like to see now?  Please note that as an Amazon Associate, we earn from qualifying purchases.

---


If you don't already know about the Click, Clack series, you will want to check them out. It all started with the Caldecott Award winner Click, Clack, Moo: Cows That Type.  That was such a huge hit that more books followed. Below are some of the best.  To learn more about this series, click on the books below or link above.  :)