Cleopatra by Diane Stanley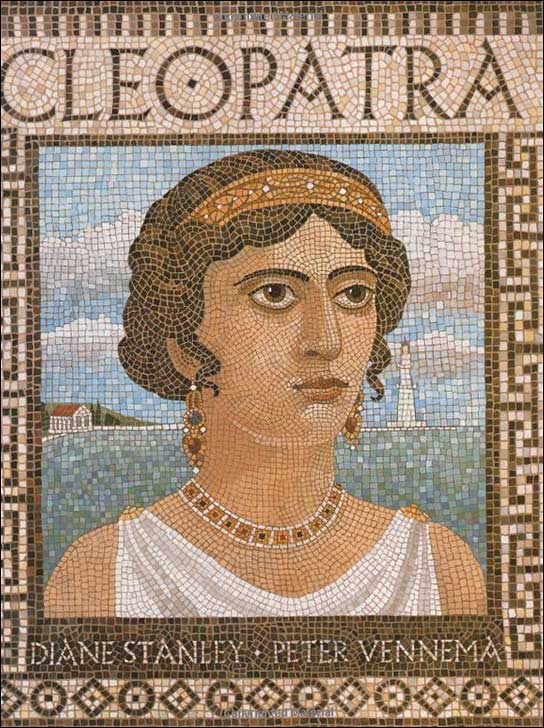 Starting with a reminder that what we know about Cleopatra may be more legend than fact, this title relays the events of Cleopatra's life from age 18 to age 34, portraying her political savvy, her romances, her banishment from Alexandria, and more.
"Lucid writing combines with carefully selected anecdotes" (Publisher's Weekly) to make this a highly readable biography in which "Cleopatra emerges as a savvy, astute, and complex leader who followed both her heart and mind." (School Library Journal)
Cleopatra is another winning picture book biography by Stanley and Venemma. Our goal is to review and (hopefully) include all of their wonderful picture book biographies on this site. They truly are "a peerless author/artist team" who "make a seemingly effortless leap into ancient times, masterfully relating Cleopatra's life story through words and pictures...This peerless author/artist team makes the captivating, ultimately tragic Cleopatra seem astoundingly real." (Publisher's Weekly)
This book has won A LOT of awards, including:

ALA Notable Children's Book 1995




American Bookseller Pick of the Lists 1995

Publisher's Weekly Best Children's Books List

1995

Booklist Best Children's Books

List

1995

Parenting Magazine Best Book

List

1995

People Magazine Today Recommended Book 

USA Today Recommended Book

Library of Congress Recommended Children's Book

Reading Level for Cleopatra by Diane Stanley:
Interest Level:  Grade 3 - 6
DRA Level: 50
Guided Reading Level: T
Lexile Measure: 1000L
Read-Aloud vs. Independent Reading:
The intended audience for this book is grades 3-6.  Children in third and fourth grade will most likely need this book to be read aloud to them, since kids generally do not read on this reading level until the end of fourth grade. Many to most fifth and sixth graders will be able to read this book independently.


See Inside Cleopatra by Diane Stanley:

Diane Stanley's illustrations are so sumptuous and full of period details that I found myself pouring over them in order to take it all in. Particuarly stunning are the sections made to resemble mosaics (like the cover art or the background to the text area). As usual, it is the small details that make Stanley's illustrations not only breathtaking, but also highly educational.

Below are sample spreads to give you an idea of the illustration style and the amount of text on each spread. As you can see, there is quite a bit of text, but it is appropriate for the intended audience.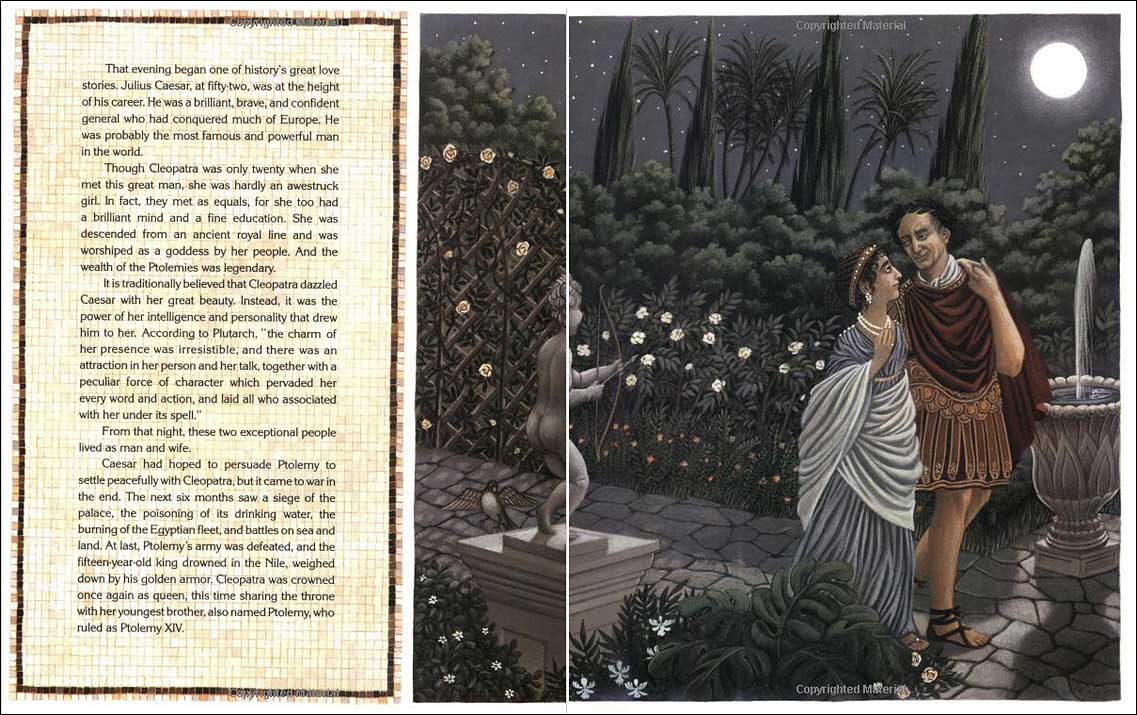 Where to now?
Now that you've seen this great book, what would you like to see now?  Please note that as an Amazon Associate, we earn from qualifying purchases.