City by Numbers
by Stephen Johnson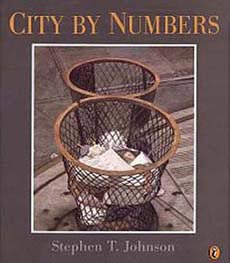 City by Numbers is AWESOME!  We can't say enough good things about this book.  It's every bit as stunning as the author's Caldecott winning Alphabet City, and features the same style of highly realistic paintings, only this time it's the numerals 1-21 that are depicted in various common city scenes.
Each illustrations depicts one number that has been 'created' by items and landscapes commonly found in large American cities (like NYC, which this book is based on).  The cover image is a perfect example -- two adjacent trash cans just happen to form the number 8!
"Some numbers occur in the lines, curves, and curlicues of existing architecture, such as an iron gate, a fire escape, a cornice; others are created by negative space, for example, between stones on a snowy walkway or in the scraped surface and papery patches of a building's peeling paint." Kirkus Reviews
Johnson's illustrations are so "photo-realistic" you'll have to continually remind yourself that it is indeed a painting, not a photograph. And, extra benefit...Kids will love 'finding' the number in each landscape, and once they see this book, they'll be looking for numbers all over the place. :)
Awards Won

Parenting Magazine Reading Magic Children's Book Award
Parents Magazine Best Children's Book of the Year
See Inside City by Numbers

Below are samples of the beautiful photo-realistic illustrations inside this book. As you can see, the number isn't immediately evident. In these sample illustrations: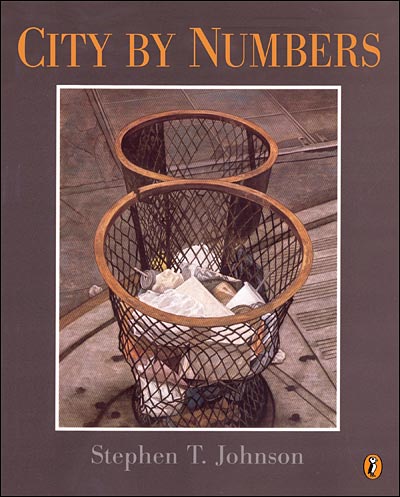 - (top left) the number 18 is made in a park bench and nearby fence
  - (top right) a number 9 is formed by the grill of a truck
  - (bottom) a number 17 can be seen in the drainage pipe and fire escape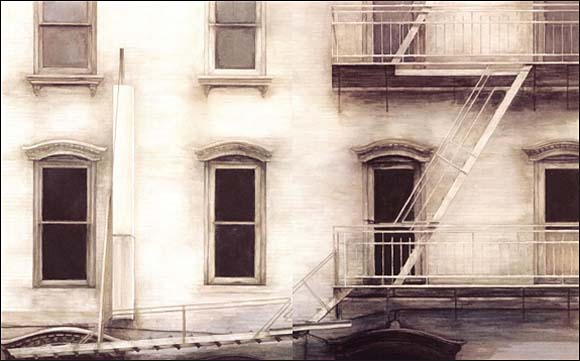 Please note that if you purchase an item from Amazon, they give us a small referral fee.




City by Numbers is a guaranteed hit, and not just with young kids. Children of ANY age will enjoy this book, particularly kids who are old enough to enjoy spectacular artwork. Very young children who are just learning their numbers may have a hard time 'locating' all the numbers, but then again, it's a great way to reinforce the SHAPE of numbers (something that's second nature to bigger kids and adults, and part of the reason why the numbers will pop out to them more easily).
City dwelling kids will undoubtedly relate to these images more easily, as they see these scenes in their daily lives.  It will definitely add new dimensions to their future forays outside! :)  But, non city-dwellers will still get a kick out of the book, so it's a great fit for them as well.


---