Children of the Dust Bowl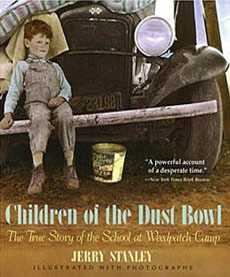 Subtitle: The True Story of the School at Weedpatch Camp
by Jerry Stanley
This outstanding book provides an engaging portrait of the Oakies -- following their journey west, their continuing struggles in California, and finally their daily life as the residents of Weedpatch Camp (a government farm labor camp), where residents created their own 'emergency' school. (The children will love learning about that part!)

In a starred review, Booklist said "The story is inspiring, and Stanley has recorded the details with passion and dignity. An excellent curriculum item." 
Even if you just use the book for the dust bowl pictures, we think this book is a must have for the classroom. If a picture is worth a thousand words, this book really communicates!  When it comes down to it, every teacher of history wants their students to be able to see the human lives involved in a given historical event -- to imagine what it was like to live through that time period and even perhaps be able to put themselves in their shoes. So many of the dust bowl pictures in this book do that. It's really priceless!
Oooh...also, if your class is reading Christopher Paul Curtis's Bud, Not Buddy, this is such a great non-fiction companion text.  We think it works best if you read some of the fiction book first, so that the kids "know someone" who lived back then. This helps the kids get a little more 'invested' in the time period, and then... share this book. Their interest will be peaked, and the information will stick!


Awards Won
   - American Library Association Notable Children's Book 1993
   - Horn Book Magazine Fanfare Award 1993
   - California Library Association Beatty Award 1993
   - National Council of Teachers of English Orbis Pictus Non-Fiction Award 1993

Reading Levels
Interest Level:  Grade 6-8                 DRA Level:  60                Lexile:  1120       
Grade Level Equiv:  6.5                   Guided Reading: Y

See Inside
Below are some sample pages from inside this book. As you can see, there are a lot of large dust bowl pictures and there's also (compared to other books on our site) a lot of text.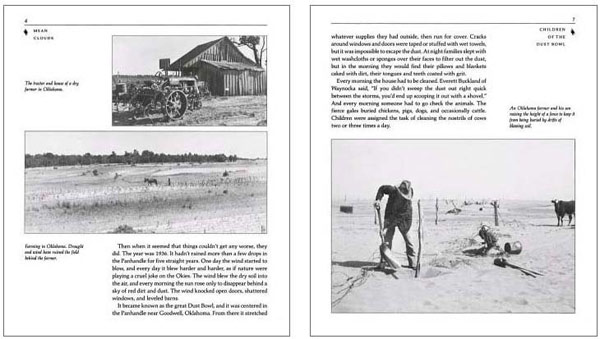 Where to now?
Now that you've seen this great book, what would you like to see now?  Please note that as an Amazon Associate, we earn from qualifying purchases.