Chicken Big
by Keith Graves

Chicken Big is unlike anything the other chickens on the farm have ever seen. They don't know what it is, but they are sure that it can't possibly be a chicken. It's too huge. They exclude it from their group as they try to figure out what it could possibly be. Their guesses are ridiculous (an elephant, an umbrella, a sweater...) and even the chicken in question starts to realize, "This is getting ridiculous." 
Chicken Big saves the day a number of times, but it's not until he rescues their stolen eggs from a sly fox that the other chickens determine that any animal as smart, as kind, and as brave as him must be a chicken!
Booklist called this book "a sort of mash-up of Chicken Little and Blind Men and the Elephant," and that does seem about right. Adults may find the brainless little chickens a little too dopey, but kids get a kick out of their propensity to panic and preposterous guesses as to what Chicken Big truly is. Grave's illustrations are a lot of fun, and Chicken Big's exasperation with the antics of the little chickens is pretty hilarious. In fact, Booklist predicts this book will elicit "loud requests for repeat readings from delighted audiences."
Interest Level: PreS-Gr. 2                Lexile Measure: AD570L


See Inside Chicken Big

Here are two sample pages from inside this book. As you can see, Graves illustrations are a hoot. These pages show Chicken Big finally cracking out of the humongous egg (left) and the group of bewildered chickens trying to figure out what this giant creature could be (right).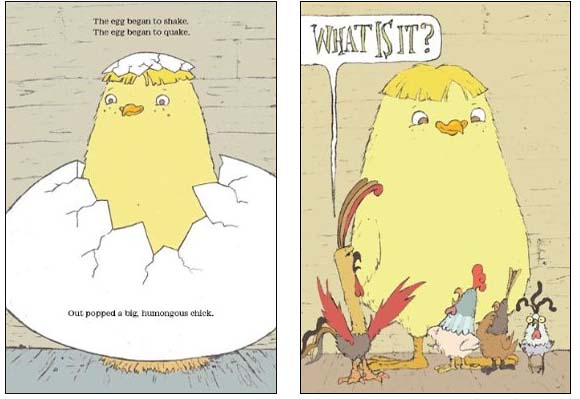 Please note that if you purchase an item from Amazon, they give us a small referral fee.



---


This is a good book, but if it's not exactly the book you are looking for, check out
other books on values & character education: