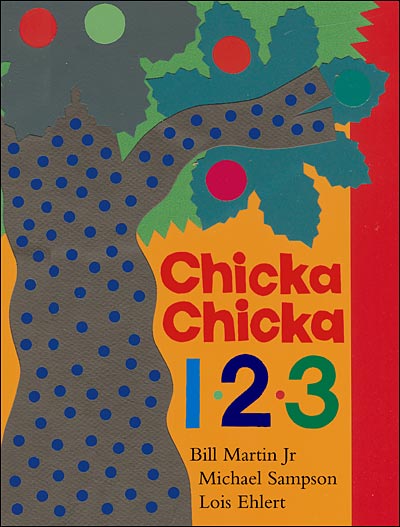 Chicka Chicka 123
by Bill Martin & Michael Sampson
illustrated by Lois Ehlert

Chicka Chicka 123 is a companion to Chicka Chicka Boom Boom and is definitely a teacher's favorite for teaching numbers and counting! In the story, 101 numbers climb up an apple tree (1-20 one by one, then by 10s). As each group of numbers climbs up, a worried zero asks "Chicka Chicka 1,2,3...Will there be a place for me?"  Before zero has a chance to climb the tree, along come two bees and all the numbers scramble down. Luckily, zero finally figures out his place and saves the day.
School Library Journal right called it a "deliciously sweet selection, and a nifty counting book to boot." We agree. :)  This book has won a number of awards, including:
* American Library Association Notable Children's Book of the Year
* Boston Globe / Horn Book Honor Book of the Year
Chicka Chicka 123
Reading Level:
Interest Level: Preschool - Grade 2
DRA Level:  18
Lexile Measure: 470L
Guided Reading Level:  K
Read-Aloud vs. Individual Reading:
This book will need to be a read-aloud for all kids in the intended audience, other than second graders, as children generally do not read on the reading level (difficulty level) of this book until several months into second grade. And most second graders will likely need extra support if they will be reading this book independently.
See Inside Chicka Chicka 123:

Below are sample pages from inside this book. Fans of the original (Chicka, Chicka, Boom, Boom) will recognize Ehlert's trademark style of art. 

Chicka Chicka 123
Lessons / Activity Ideas:
The Virtual Vine has over a dozen ideas for using the companion book, Chicka Chicka Boom Boom, in the the classroom. What a great resource! Many can be adapted to use with Chicka Chicka 123. You can create a reading center with a palm tree (shown at right), play a game of 'coconut bowling', create a palm tree painting using forearms and hands and letters [or numbers] going up the trunk (also shown at right), taste test a coconut, make special letters, play a shell game, etc. To see the full list of Virtual Vine activities to accompany this book, please click here: Chicka Chicka 123 activities.
Also, the DLTK's website has Chicka Chicka Boom Boom coloring book pages and two paper craft activity plans--one for preschool and one for Kindergarten. You can adapt them to a numbers focus, or read the ABC book in conjunction with Chicka Chicka 123, then do the activities. Chicka Chicka 123 numbers activties