Charles Darwin

(Giants of Science series)

by Kathleen Krull
illustrated by Boris Kulikov

A well written, often witty account of the life of Charles Darwin, creator of the theory of evolution--a theory almost as controversial today as it was when he first presented it.
Krull captures Darwin's insatiable curiosity about all living things. Readers learn about his five-year voyage on HMS Beagle and then the twenty year struggle he had to bring the controversial theory into the public eye.

Krull's writing is conversational and fun, with interesting anecdotes that really personalize the great man. Add to that Boris' Kulikov's whimsical ink drawings and this book has just the right amount of levity and interest to keep this age group turning the pages.


Reading Levels
Interest Level:  Grade 5+                 Lexile Measure: 1110L


Available Book Covers
There are two book covers available, with just a slight variation: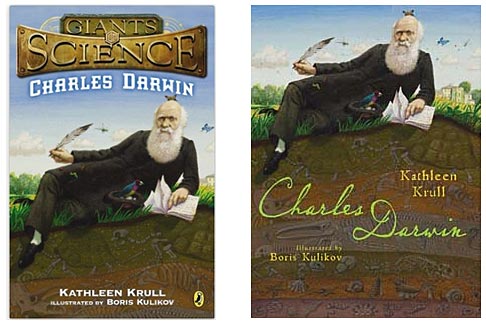 Please note that if you purchase an item from Amazon, they give us a small referral fee. And that helps us cover the costs of this website.


---


You may also want to check out other books in the 'Giants of Science' series, such as those below. To learn more, click on the book covers below or link above.  :) 



---