"Celebrate the Seasons" series
by Linda Glaser
"Celebrate the Seasons" series: It's Fall -- It's Winter -- It's Spring -- It's Summer
by Linda Glaser
"Designed with the elementary-school nature curriculum in mind" (Booklist), the books in this series feature three-dimensional cut-paper illustrations and simple text about a young child and everything he/she sees, smells, hears, and touches during the season being highlighted. The books also cover what animals do and how nature changes. There is a narrative that runs throughout but the story is minimal and takes a back seat to the information about the season being discussed.
At the end of each book, Glaser has included a long list of nature activities for that particular season. It's Summer, for example, includes suggestions like collecting seeds, look at the night sky (with adult supervision)... These activities are a great resource for teachers or parents and can add to the educational/scientific aspects of studying the seasons.

In their review, School Library Journal said "Swan's beautiful cut-paper artwork is colorful, crisp, and stark.. Make room on your shelves for this series."
Interest Level:   preschool - Grade 2


See Inside Celebrate the Seasons

Here is a spread from inside It's Fall. We love the three-dimensional nature of these books, and this page does a good job of showing that.Your students will want to touch the pages, just to make extra sure that it is indeed flat.  Heck, we did it ourselves the first time we read this book!


Next is a page from It's Winter. We included this spread to show that the books do have a storyline. They are packed with details about the season, but there is a main character and a continuing narrative throughout. In this spread, the girl has just gotten a lettter from her grandparents, who live in sunny Florida. The girl says, "Oooh! That seems strange and funny. Our winters are so different. It's hard to believe. But see? Here's a photo of them sunning on the beach."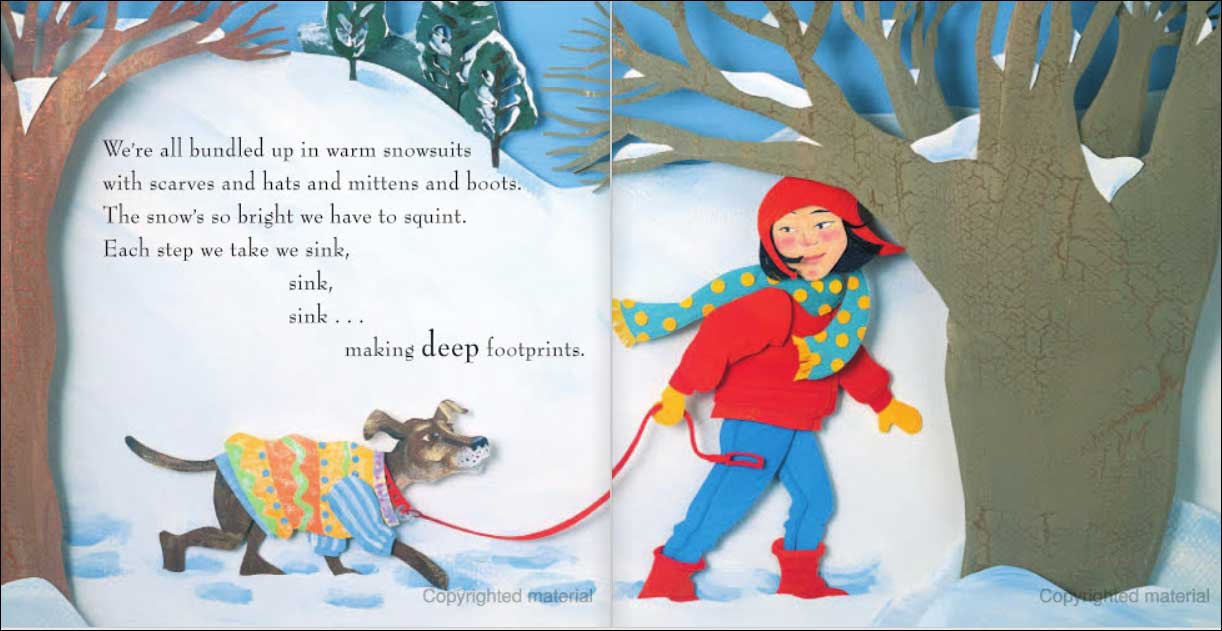 And here is a spread from inside It's Spring. Even in our small version here you can see how three dimensional the illustrations are. It looks as if the leaves are coming right off the page. This spread talks about how new growth is starting to appear. "The ground is growing soft and warm again. There's a clean fresh smell in the air. We find tiny new green growing things everywhere."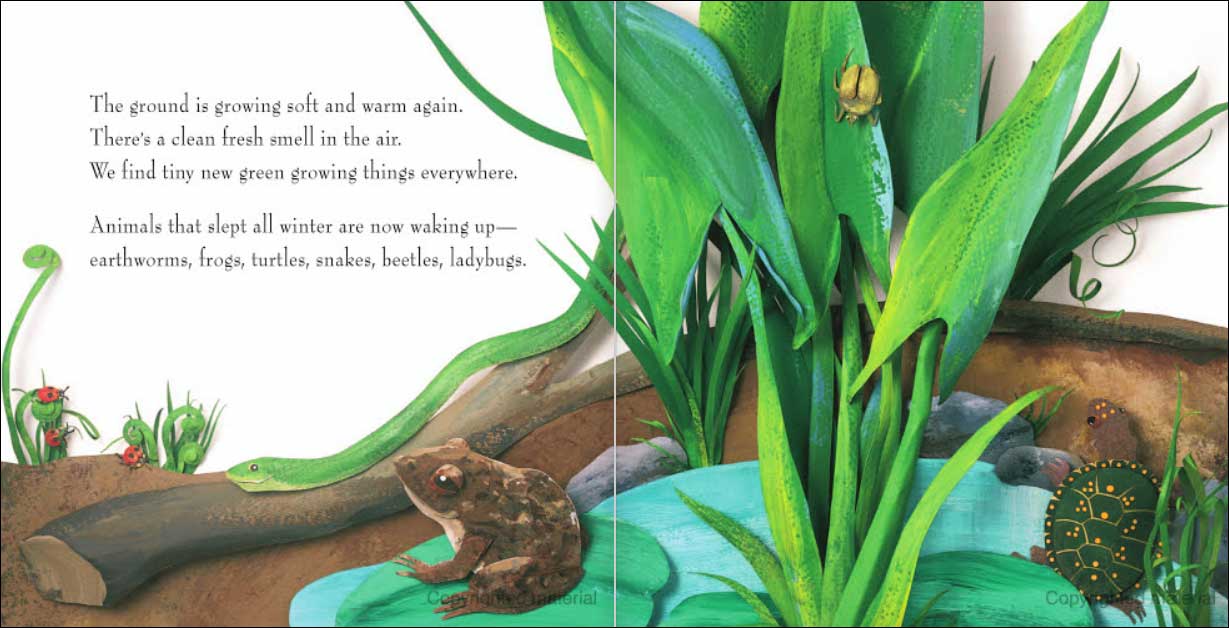 Lastly, here is a spread from inside the book It's Summer. This would be a fun book to read at the end of the school year, when kids are excited for all that summer has in store for them. The spread celebrates playing in the outdoors, when "cool mud sucks at our toes in such a squishy way. It's so warm and sunny we could play outside all day."

Where to now?
Now that you've seen this great book, what would you like to see now?  Please note that as an Amazon Associate, we earn from qualifying purchases.