Serge Bloch's Idioms Books
3 cute books based on idioms

In these three adorable books featuring idioms, Serge Bloch uses real objects combined with whimsical, simple line drawings to recreate a young boy's misunderstandings of common idioms. Your kids will love Bloch's simple but clever illustrations. We LOVE these books!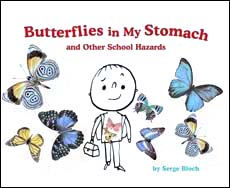 Butterflies in My Stomach
and Other School Hazards
This book shows a nervous boy's first day of school via a series of related idioms, like waking up on the wrong side of the bed, having a long face... This is a fun read any time, but it'd be extra helpful for teaching idioms -or- on the first day of school, as it covers the range of emotions that many kids often feel.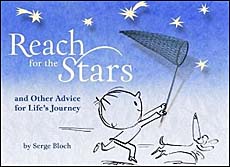 Reach for the Stars
and Other Advice for Life's Journey
This is a darling collection of 32 motivational idioms about facing challenges, believing in yourself, and 'reaching for the stars.' Readers are told that sometimes life will be "smooth sailing, but other times it'll be a bumpy ride, with many forks in the road." They may face 'uphill battles' or feel like a 'fish out of water', but friends will 'bend over backward to help'... Very cute!
You Are What You Eat
and Other Mealtime Hazards
This is an adorable book full of fun idioms related to food. From the title, it may seem as though this book is about proper nutrition, but it's actually a fun look at all the many idiomatic phrases involving food, like: using your noodle, eating like a horse or a bird or a pig, driving someone bananas, being a couch potato or health nut or two peas in a pod...
Interest Level      1st grade - 4th grade

Below are two pages from inside Serge Bloch's Butterflies in My Stomach.  As you can see, Bloch uses real items related to the idiom and composes an illustration around it with simple but adorable pencil drawings. All three books have this same general format.


In this first illustration, the text reads, "Then she told me to hurry up because we'd be in a real pickle if we missed the bus." The illustration for this page then shows the kids 'in a real pickle' which takes the form of a bus. So hilarious!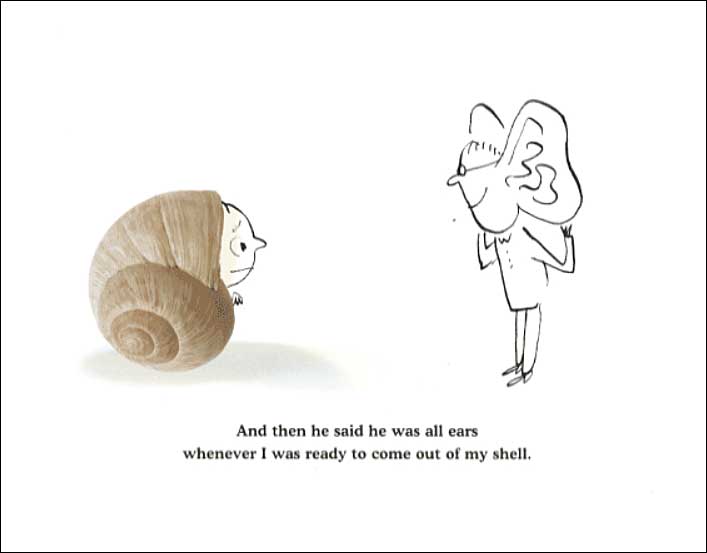 Bloch sometimes works two idioms into one sentence, as in this example, which reads, "And then he said he was all ears whenever I was ready to come out of my shell."  Kids will certainly relate to the little boy's shy and nervous feelings about starting school.


And here are spreads from inside Reach for the Stars: and Other Advice for Life's Journey: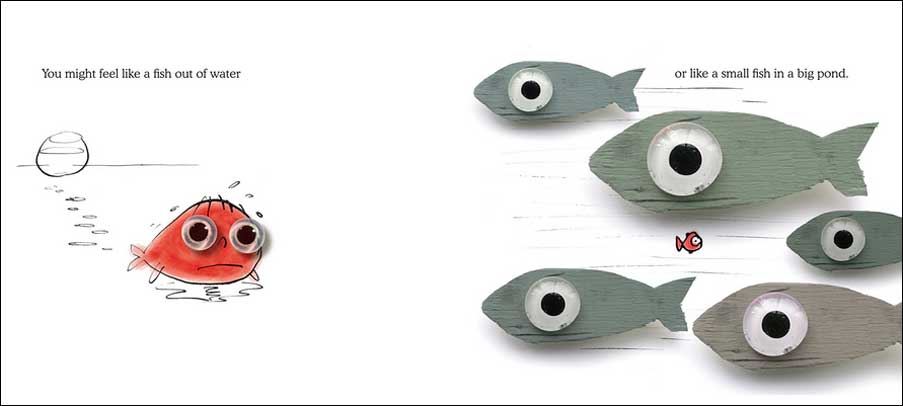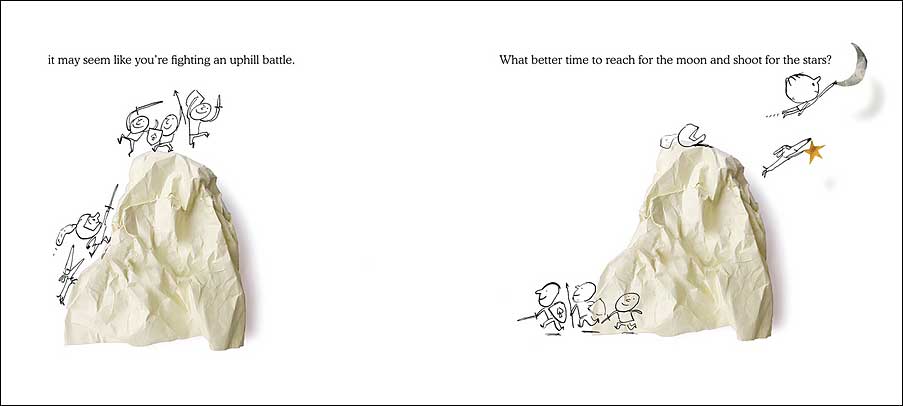 Where to now?
Now that you've seen this great book, what would you like to see now?  Please note that as an Amazon Associate, we earn from qualifying purchases.