Blackout by John Rocco
Summary of Blackout by John Rocco: One hot summer night in the city, all the power goes out. The TV shuts off and a boy wails, "Mommm!" His sister can no longer use the phone, Mom can't work on her computer, and Dad can't finish cooking dinner. What's a family to do?
When they go up to the roof to escape the heat, they find the lights--in stars that can be seen for a change--and so many neighbors it's like a block party in the sky! On the street below, people are having just as much fun--talking, rollerblading, and eating ice cream before it melts. The boy and his family enjoy being not so busy for once. They even have time to play a board game together. When the electricity is restored, everything can go back to normal . . . but not everyone likes normal. The boy switches off the lights, and out comes the board game again.
Using a combination of panels and full bleed illustrations that move from color to black-and-white and back to color, John Rocco shows that if we are willing to put our cares aside for a while, there is party potential in a summer blackout.
Reading Level for Blackout by John Rocco
Interest Level:   Kindergarten - Grade 2
DRA Level:  16
Lexile Measure:   BR330L
Guided Reading Level:   I

Read-Aloud vs. Individual Reading:
For most of the kids in this book's intended audience, this book will need to be a read-aloud rather than for individual reading, as kids do not generally read at this reading level until the end of first grade. Many/most second graders may be able to read this book on their own.

Awards and Honors
 * Caldecott 2012 Honor Book
 * School Library Journal Notable Children's Book
 * Publisher's Weekly Notable Children's Books   
 * Wall Street Journal Best Children's Books of the Year
 * New York Times Best Children's Books of the Year
 * Kirkus Reviews Best Book of the Year

See Inside Blackout by John Rocco

Below are sample spreads from early inside this fantastically illustrated book: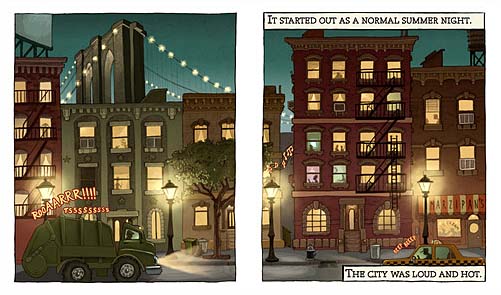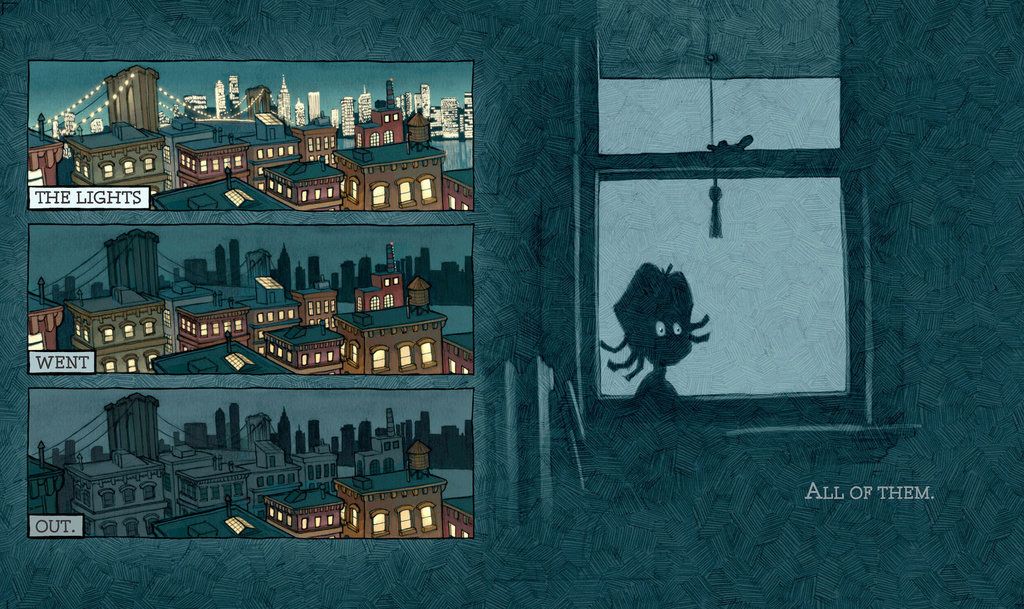 Lesson/Activity Ideas for Blackout by John Rocco

There are few lesson/activity packets available for Blackout by John Rocco on the popular teacher website teacherspayteachers.com.  We haven't personally used them with our classes, but they all seem to have a lot of positive reviews. (If you aren't familiar with this site, it's full of lesson plans, activities, learning games, and other curriculum materials made by teachers. We LOVE the site!!).
To see these Blackout by John Rocco lesson / activity ideas, click the link or the pictures below.

BIG SAVINGS! Check out our discounted

Caldecott Winning Books for just $2.75
Want to save 50% or more off retail prices? Check our Caldecott books that are used but still in great shape!  Great deals!