Black? White!
Day? Night!

Black? White! Day? Night!
A Book of Opposites
by Laura Vaccaro Seeger
Just as in her book The Hidden Alphabet, this title uses full page flaps to create surprises with every turn of the page. Seeger presents dozens of opposites, with one word shown before the flap is raised and the opposite of the word shown after the flap is raised. (To see an example of this, see below.)
This is a book that should be read for the sheer fun and magic of it, but it can also be a fun way to start a lesson on opposites or an early lesson on antonyms. In a starred review, Booklist said "From 'front' to 'back' and 'beginning' to 'end,' this is a winner." We agree!!

Interest Level:  Preschool - 2nd grade


Awards Won

American Library Association Notable Children's Books List 2007
Child Magazine Best Books of 2006 List
Booklist Editors' Choice List 2006
Kirkus Reviews Best Books of 2006 List
BookSense Pick of the Lists Book 2006
Eric Carle Museum Picture Book of Distinction 2006
See inside
Below are both parts of one page from inside Black? White! Day? Night!  The image on the left shows the page with the flap down and a small cut out square revealing a little bug shaped spot. The word on the page says "tiny?" When the flap is the lifted, the reader sees the illustration on the right--a large elephant with the word "huge!" printed next to it. The small bug shaped spot is now the eye on the large elephant. All the pages in this book follow this lift-the-flap-to-see-the-opposite format. Fantastic!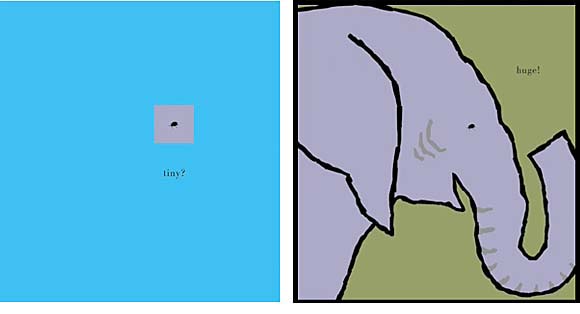 Please note that if you purchase an item from Amazon, they give us a small referral fee. And that helps us cover the costs of this website.


---
You may also want to check out other books by Laura Vaccaro Seeger. It's no exaggeration to say that they are ALL fabulous -- with simple executions but clever concepts.  To learn more about Seeger's books, click on the book covers below or the link above.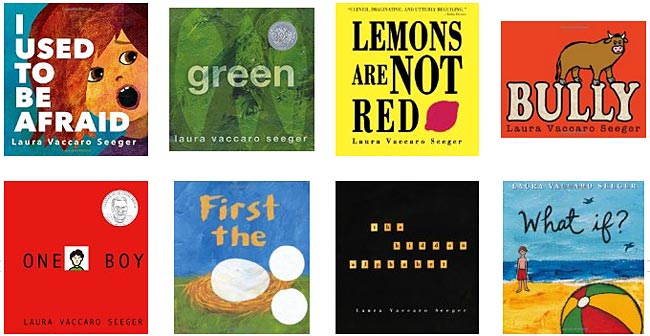 ---