Big Al
by Andrew Clements & Yoshi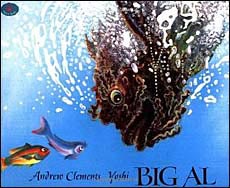 Big Al is a large, scary, ugly fish---so much so that none of the other fish want to be near him. They don't realize that he's the nicest fish in the sea and only wants to make friends. He tries many different tactics (disguise, silliness, blending in) but nothing seems to work. Until, one day Al saves the day and all the other fish see his true colors for the first time.
This book is one of a number of children's books aimed at this age group that uses large, fierce looking animals to teach children not to make snap judgements about people based on their appearances. Another example is New Bear at School, also reviewed on this site. (One would assume and hope that there would be books aimed at children a bit older than this audience that feature real children as the 'different, maybe scary' character. Then, kids could graduate to that more direct approach to teaching children not to judge others. But there aren't many. We've looked!)

This is a great book to read aloud near the beginning of the school year, as students are just getting to know each other. It can also be helpful to read any time of the year if you notice that one of the children in your class doesn't appear to have made friends or been accepted by the other students.
Big Al Reading Levels

Interest Level:  K-Gr. 2               DRA Level:  20                     Lexile Measure: 880L
Grade Level Equiv:  2.9            Guided Reading:  L



See Inside This Book

Below is a spread from inside this book. This spread actually takes place at the very end, when Big Al has 'saved the day' and is surrounded by all his new friends. (Sometimes we wonder if we have too many spoilers on this site, so we've decided not to tell you exactly what Al did.)



---
We have a dozen lists of books that teach different values / character ed topics: