Ben Franklin,
American Genius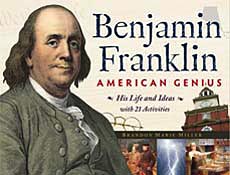 Ben Franklin, American Genius
His Life & Ideas, with 22 Activities
by Brandon Miller
This title is a well done summary of Benjamin Franklin's life. His accomplishments are detailed, from printer and inventor to scientist and diplomat. We love this series, and this title doesn't disappoint.
Each chapter includes activities that related to the text and the historical facts discussed in the chapter. Teachers will love all the activity ideas, and kids will love the hands-on learning!

Interest Level:   Grade 4-8

Below are sample spreads from inside this book.  To see larger versions of these spreads, simply click on the images or click here.

Please note that if you purchase an item from Amazon, they give us a small referral fee. And that helps us cover the costs of this website.


---