Beatrice's Goat
by Page McBrier and Lori Lohstoeter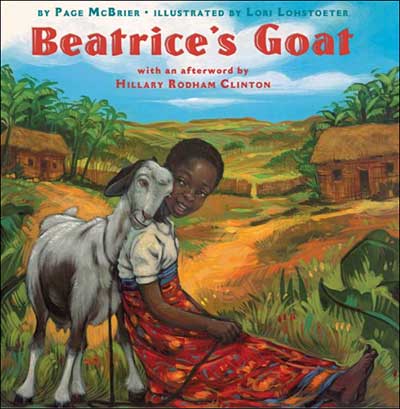 Beatrice's Goat is a moving picture book tells the story of how the lives of one poor family in Africa were dramatically improved by the simple gift of a goat from a generous stranger and a  charitable organization named Heifer Project. Beatrice desperately wants to go to school, but her family cannot afford it. Instead, she spends her days caring for her younger siblings and helping in the fields on their small plot of land in a rural African village. Then one day, Beatrice's family receives a precious gift from a charity--a goat!  In time, the goat provides milk to sell as well as baby goats, and soon the family has earned enough money so Beatrice can go to school.
Beatrice's Goat is illustrated with vibrant acrylic paintings that powerfully depict the culture, environment, and poverty of the African landscape. Based on the work of the nonprofit organization Heifer Project, this story shows how a small act of generosity can make a big difference in the lives of others, particularly those living in impoverished conditions here or abroad.
"Perhaps the volume's greatest strength is Lohstoeter's sunny acrylic paintings, which capture the hues of dusty thatched huts and verdant banana groves of the African landscape. Sweet-faced Beatrice and her mother take center stage, wearing colorful, traditional clothes, and their bond is palpable."  (Publ. Wkly)

Reading Level for Beatrice's Goat

Interest Level: Kindergarten - Grade 3
DRA Level:  30
Lexile Measure: 640L
Guided Reading Level:  N
Read-Aloud vs. Individual Reading:
For kids in first to third grade, this book will need to be a read-aloud rather than for individual reading, as children generally do not read on the reading level (difficulty level) of this book until the end of third grade. The majority of fourth and fifth graders should be able to read this book independently.

See Inside Beatrice's Ghost

Below are two spreads from the beginning of Beatrice's Goat. As you can see, the illustrations are lush and depict village life in a tropical African locale. There is quite a bit of text in this story and I was initially worried that my class of first graders wouldn't be able to sit through it. Wow was I wrong. They were riveted throughout the story and even talked about Beatrice periodically for days afterward. It made quite an impression!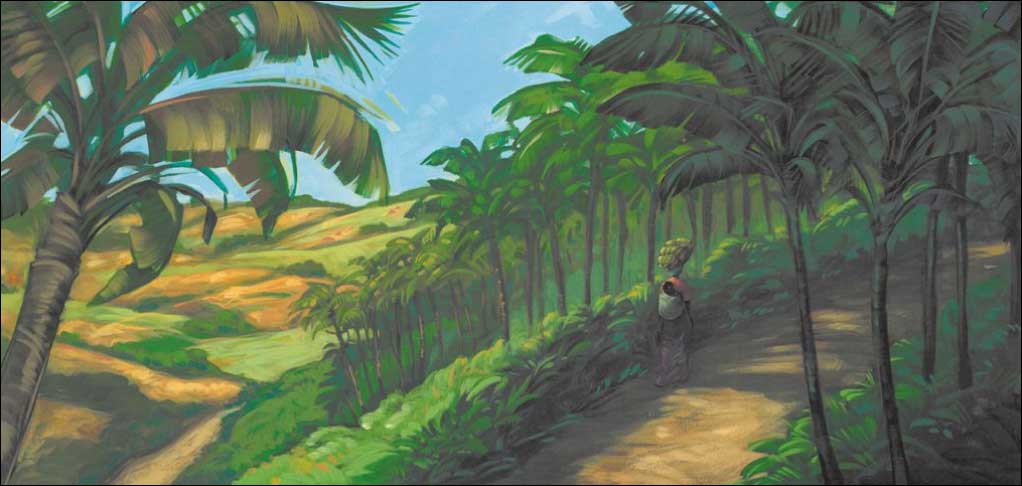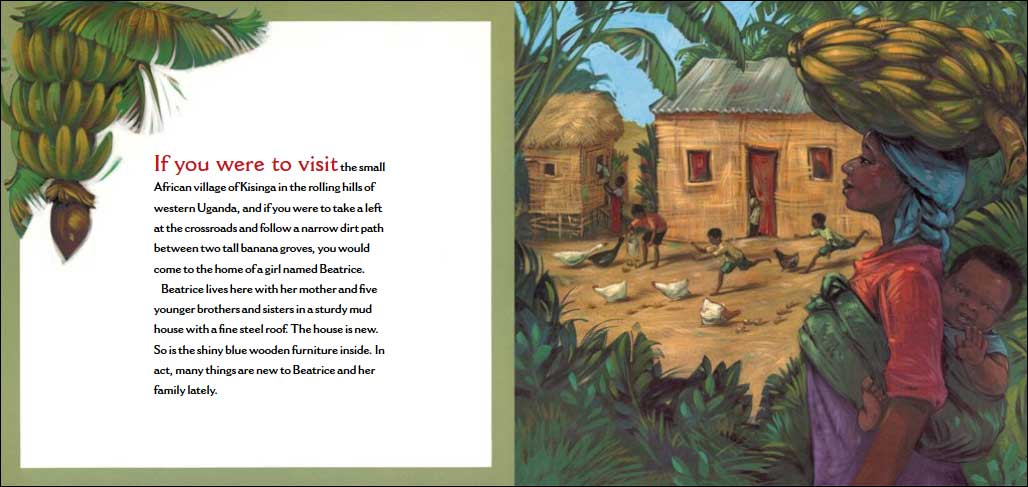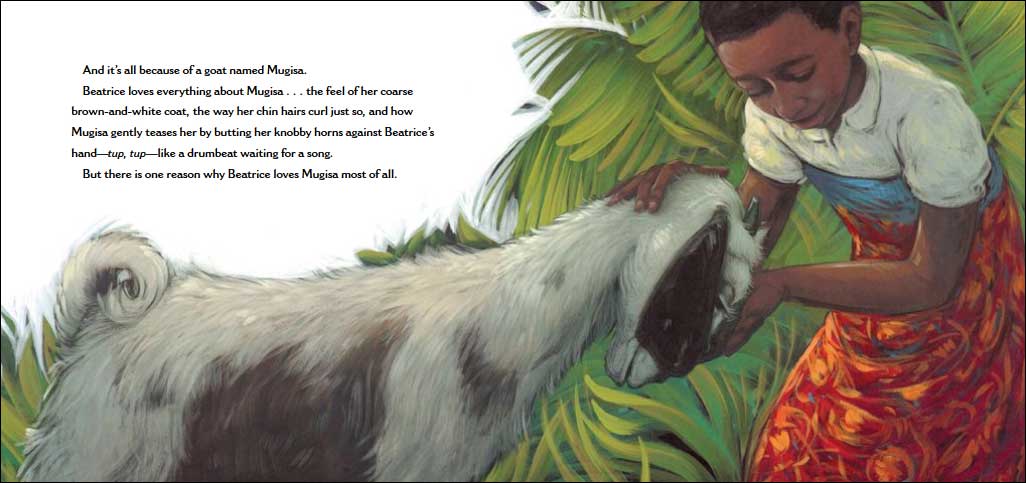 Here are two additional spreads.  This first spread depicts Beatrice and her distraught mother who knows she must tell Beatrice that they do not have enough money to send her to school. The second spread shows young Beatrice watching the class from a distance, fearing "I'll never be able to go to school."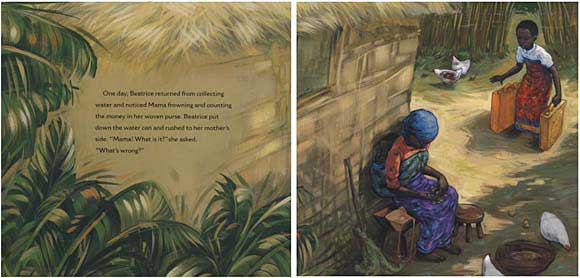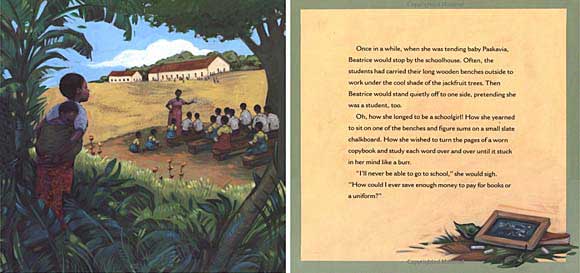 Beatrice's Goat Activity

A Season of Giving--Classroom Giving Campaign
Last year for the winter holidays, our class theme was "A Season of Giving." Kids focus on what they are getting, so I wanted to balance that out a bit so we did a number of small service activities and lessons to experience the season as 'a season of giving'. Some were quite simple but the children felt great about the service they had performed. (For example, we did a 'service project' of teaching a craft activity to a Kindergarten class. I taught the students how to make it one day, and then the next day we went to the Kindergarten class, paired up the kids, and they taught the students. My students felt so proud of themselves and afterward, when we talked about the experience, they expressed how good it felt to help someone else.)
The big giving activity was our goal to earn money to donate livestock via Heifer International. Students were to earn money at home by doing small household tasks.  The parents were informed about the goal of this project via the parent newsletter (and I gently encouraged the parents to have the children earn the money as opposed to just giving them something to donate.)

I started the unit by reading Beatrice's Goat. The kids were very tuned in! Then I showed pictures from National Geographic of houses (basically shacks) and dilapidated schools in developing countries and we discussed the ways in which the lives of the very poor in other countries might differ from our lives here. Then we watched short, kid-focused video clips from the Heifer website (find them here) about the different animals that can be given and how the animal will benefit the family that receives it. At that point the kids were really excited!  

One day after introducing the unit, we already have $30!  The kids were cracking into their piggy banks and were doing chores around the house to raise money. Above is the chart I used to track our progress.  Each day we updated the chart when students brought in coins (also great for teaching money and addition!)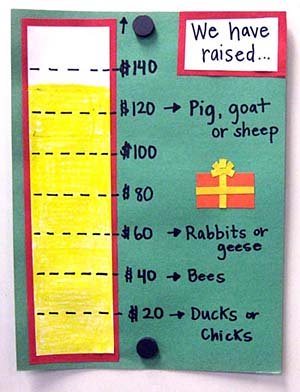 Three weeks later, on the last day of school before Christmas break, we added our last bit of money and, in total, we'd raised $131, entirely from the kid's piggy banks or by doing jobs. We then picked which animals we wanted to donate and used math to see if we had enough.  In the end, we picked rabbits ($60), bees ($40), and geese ($60).  [I kicked in to make up the difference.]

It was such a sweet, wonderful experience. Kids are fantastically generous. I think the book was an important component of our success based on how many times kids mentioned Beatrice!
Where to now?
Now that you've seen this great book, what would you like to see now?  Please note that as an Amazon Associate, we earn from qualifying purchases.

SALE kids books set in Africa            books for 2nd graders
BIG SAVINGS on books on compassion, giving...


character education books: $2.75 each
Want to save 50% or more off retail? We sell a range of character education kids books that are used but still in great shape! Perfect for teachers and parents.