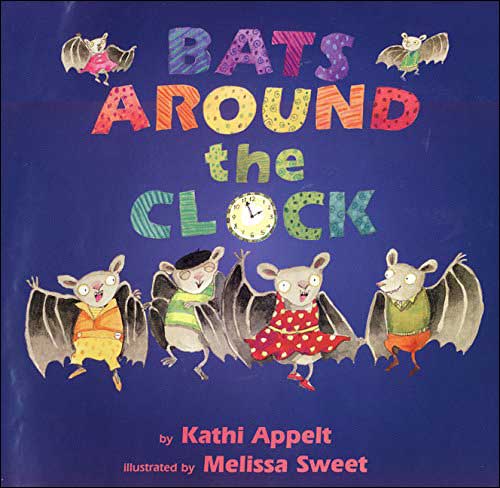 Bats Around the Clock
by Kathi Appelt
illustrated by Melissa Sweet
Join the bats of 'American Batstand' as they dance their way through a 12 hour dancing extravaganza. We adore the darling little bats and Kathi Appelt's  fun and bouncy rhyming text.
This book is adorable, but as far as teaching, it isn't very heavy on material for kids learning to tell time. There is a clock at the bottom of each page that marks the changing hours (and the resulting change in dance steps, like the jitterbug, the twist, the bugaloo...) Use this book as a supplement to your unit, once your kids have a grasp on reading clocks.
"This is the third bat math book from this team and they seem to have the formula stirred just right. Boogie down."  (Kirkus Reviews)  "The rhymes are delightful and the narrative jives right along. Children will love them."  (School Library Journal)

Reading Levels
Interest Level: Kindergarten - Grade 2           Grade Level Equivalent: 3.1          Lexile Measure:  AD570


See inside
Below are sample spreads from inside Bats Around the Clock:


Where to now?
Now that you've seen this great book, what would you like to see now?  Please note that as an Amazon Associate, we earn from qualifying purchases.