At Ellis Island: A History in Many Voices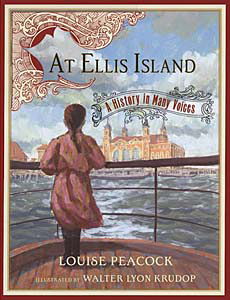 At Ellis Island: A History in Many Voices
by Louise Peacock; illustrated by Walter Lyon Krudop
 
Ellis Island was the gateway to America and the promise of freedom for thousands. Its walls are rich with stories. Its walls are rich with stories. In this book we hear myriad of those voices. First we follow a young person today. Her great-great-grandmother entered America through Ellis Island. As this young girl walks the halls of the famous site, she wonders about the past, the people, and their hopes, dreams and challenges.

Here, too, is the voice of Sera, an Armenian girl from the early 1900s. Fleeing the unthinkable in her home country, she longs to join her father in America. As Sera enters the halls of Ellis Island, she lives those same hopes, dreams, and challenges.

The voices of real immigrants -- their suffering in steerage, their first glimpse of the Statue of Liberty, and their journey through the Great Hall -- complete this touching look into an important part of America's history. A pivotal time and place is brought to life through a combination of many voices speaking in harmony.

Reading Levels
Interest Level:  Grade 2-5
DRA Level: 60
Lexile Measure: 630L
Grade Level Equivalent: 5
Guided Reading Levels: W

Review
"The facts are as dramatic as the fiction, and Krudop's full-color gouache pictures extend Sura's story, showing the crowded ship, the exciting and confusing landing, the terrifying interrogations, and, finally, the reunion with Papa. Many readers will find connections with their own family stories, whether in the past or coming here today." (Booklist)

Below are sample spreads from inside this book.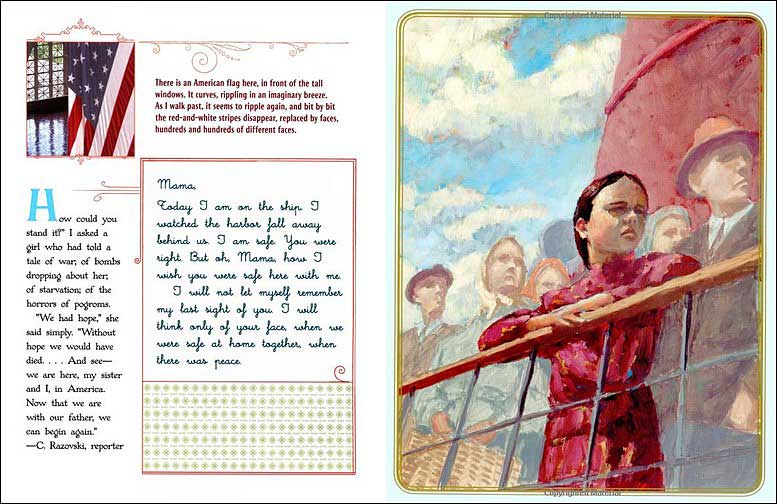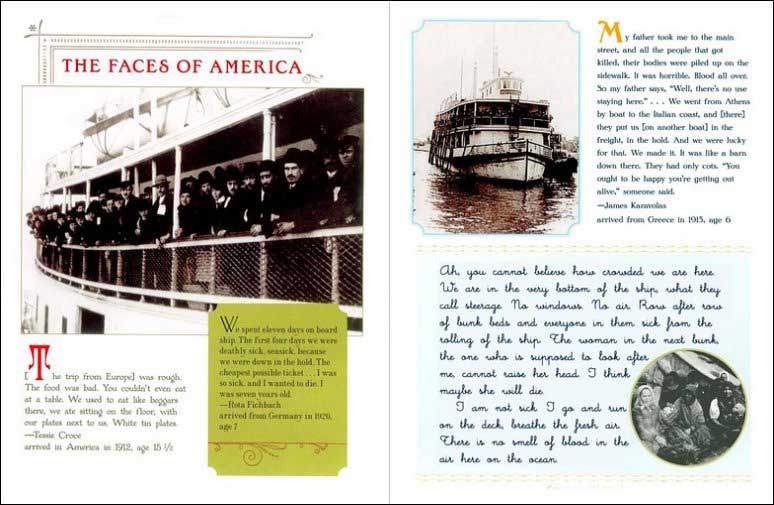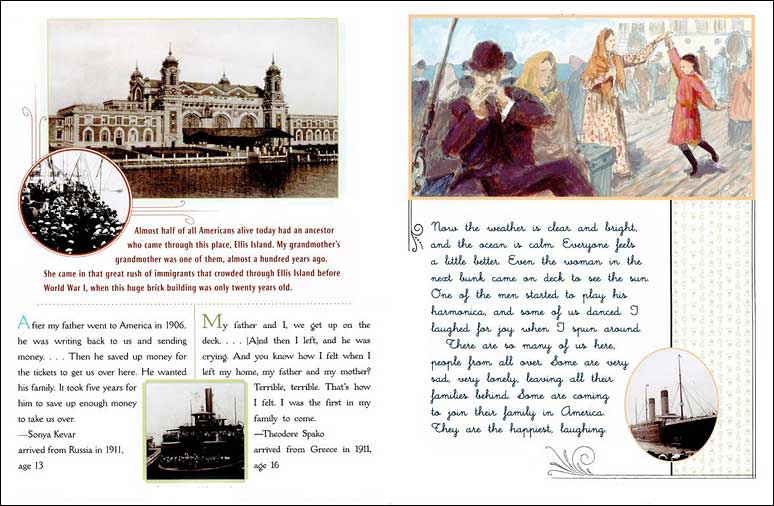 BIG SAVINGS! Check out our SALE

sale history books: just $2.75 each


Want to save 50%+ off retail? We sell children's American History books that are used but still in great shape! Perfect for teachers and parents.

Please note that if you purchase an item from Amazon, they give us a small referral fee. And that helps us cover the costs of this website.

---