Archaeologists Dig for Clues
by Kate Duke
In Archaeologists Dig for Clues, a group of friends accompany an archaeologist on a dig and learn all about what archaeologists do and how discoveries tell us how people used to live. This is a great archaeology kids book-- very clear, very engaging. The explanations are crystal clear and the books has the added benefit of showing the scientific process in action. The children's questions are realistic and Sophie's answers are always clear and age-appropriate.
Part of the Lets Read and Find Out Science series, this book is similar in format to the Magic School Bus series, with packed pages, speech bubbles, and more. While this makes the book more challenging to use in read alouds, it is so full of fun and interesting facts that we highly recommend it, especially in light of the overall lack of kids books on this subject of this level.


Reading Level for Archaeologists Dig for Clues

Interest Level:  Grade 1 - 4
DRA Level: 38
Lexile Measure: 390L   
Grade Level Equivalent: 2.8
Guided Reading Level:  P
Read-Aloud vs. Individual Reading:
For younger children, this book will need to be a read-aloud rather than for individual reading, as the reading level is too high for children up to fourth grade.  (Third graders at the end of third grade may be able to read this book, as the reading level is where many third graders end the school year.)  Most fourth graders and older kids should be able to read this book on their own.

See Inside Archaeologists Dig for Clues
Below are sample pages from inside Archaeologists Dig for Clues. As you can see, between the main text, the speech bubbles, and the informational boxes, there's a lot going on on each spread. This first spread is the first in the book. It sets the scene, explaining that the kids are accompanying their archaeologist friend on a local dig over their summer break. This spread also explains how Sophie, the archaeologist, knew to dig for artifacts in this location.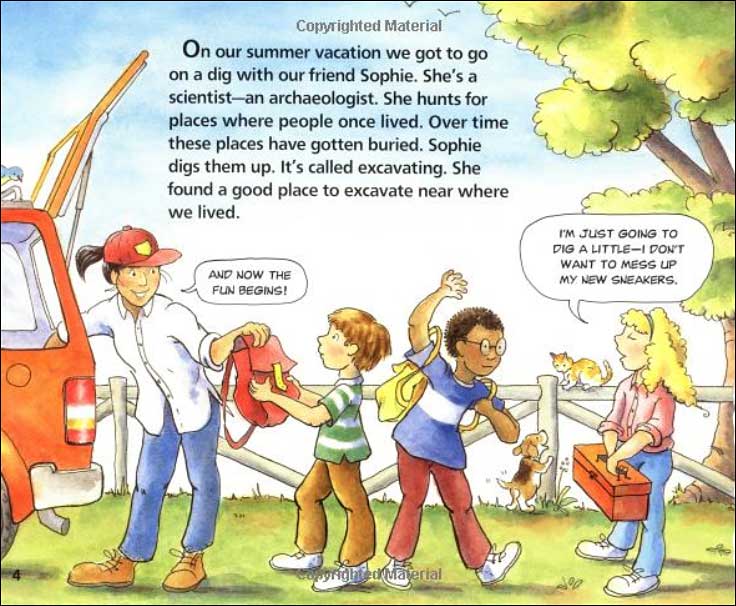 The spread below is the next one in the book, where Sophie explains about doing 'test pits' to test for other interesting buried items as well as how the dig site will be dated to a particular historic era (with examples of eras given in the box at the bottom of page 7).  After this spread, subsequent pages continue on to cover what archaeologists do with the artifacts they find, what tools they use in excavations...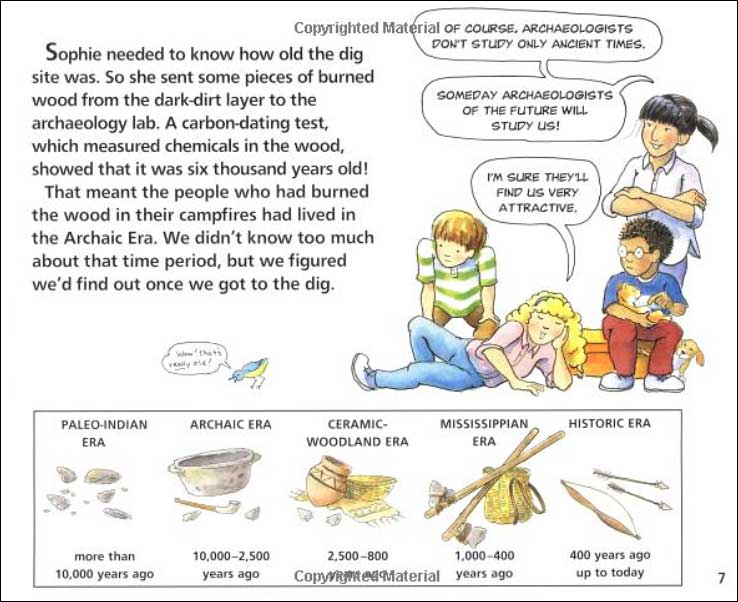 Archaeologists Dig for Clues Lesson / Activity Ideas:

We always thought it would be fun to have an "archaeology day" in our classroom, so we've scoured the internet and found a great archaeology party on the blog Liberty Hill House and we are totally going to do it next year with our class!  This webpage lists
how to launch the party (which starts with reading this book)
what is needed (an assortment of hammers, trowels, shovel, picks, brushes, and magnifying glasses)
what the kids find as archaeologists (pieces of "egyptian pottery", gold (chocolate) coins, and treasure rocks with jewelry hidden inside
how to 'bake' the treasures into rocks so that kids can excavate them
To learn all the details from Liberty Hill House, click here:  Archaeologists Dig for Clues lesson / extension activity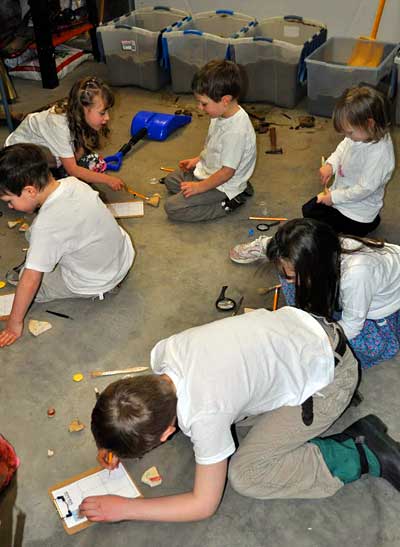 picture from Liberty Hill House write-up of this activity