Angelo
by David MacAulay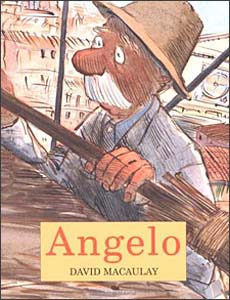 Angelo is an architectural restorer in Italy who doesn't really like pigeons since they cause a mess on the beautiful buildings he restores.
Then, one day he finds an injured pigeon,  scoops it up in his hat, and sets off for home, thinking he will just find a place to leave it on his way home. Instead, he is still carrying it when he gets to his house, so he decides it can stay with him "just one night."  
He creates a bed for the bird to recuperate in and before long, he's devoting all his spare time to this little bird, which he names Sylvia.
As Sylvia's strength grows, he begins taking her to work with him and on picnics in the countryside. The two continue their friendship over the ensuing years, and Angelo, who worries about Sylvia's well-being after he's gone, even finds a way to build a permanent home for Sylvia in a protected spot of one of his treasured buildings.
What a sweet story! "Although the two part in death, there is enough humor here to relieve the sadness and make this a charming story of an improbable friendship." (School Library Journal) This is an exceptional story for teaching children how giving service to other living things helps to change your perspective on things. A man who once disliked pigeons as a whole grew to love one of them (and in time Syliva's friends too) by an act of selfless service.
Reading Levels
Interest Level:  all ages             DRA Level:  30                 Lexile Measure:  570L
Grade Equivalent:  3.8              Guided Reading:   N


See Inside
Below is one sample illustration from inside this unforgettable book.  This is the bed that Angelo made for his little ailing bird. How adorable.  I love the water contraption and the fact that he put up that picture so Sylvia would have a decorated space in which to recuperate. Your students will love looking at all the little details of this illustration


Clearly, despite his 'professional dislike' for pigeons, Angelo also has a big heart. It's very touching how much time and energy he devotes to caring for the little bird.

Macaulay fans will not be disappointed! His "intricate drawings are suffused with soft autumnal colors that perfectly complement the beautiful story." (NY Times Book Review)  And if you are teaching about Italy, this is a great story to add to your lesson plans, as Macaulay has really captured the beauty and unique character of the country.
Where to now?
Now that you've seen this great book, what would you like to see now?  Please note that as an Amazon Associate, we earn from qualifying purchases.

---
If you like this book, you may want to check out other books by David Macaulay.  His fabulous illustrations are so detailed that kids will just pour over them and learn tons of additional details. We love David Macaulay's books!


Or you can also check out our full list of books for teaching compassion