Ancient Ones: The World
of the Old- Growth Douglas Fir
by Barbara Bash
Ancient Ones is a highly illustrated look at the world of the old-growth Douglas Fir forest habitat of the Pacific Northwest. Bash portrays a vibrant forest full of life--interconnected, living in niches within the forest, and part of the overall cycle of decay and rejuvenation.
Double-page spreads feature animals in various niches of the forest, from the forest floor to high in the canopy, from inside a fallen log to deep beneath the tree bark. This book is quite thorough and definitely gives the reader the feeling that this forest ecosystem is teeming with life.  Some animals or plants will most certainly be unfamiliar to children (ie: golden buprestids or hemlock saplings) but the majority are familiar enough so as to not confuse a young reader.
In her typical style, Bash's pages are beautifully lit and packed with information about the plants and animals of this environment, with each illustration contributing as much information as the blocks of accompanying text. She quite effectively employs a variety of perspective to whisk the reader to different segments of the tree and keep the compositions dynamic and interesting.  We agree with School Library Journal, who called it a "wondrous walk through an old- growth forest" and said that reading this book is "the next best thing to being there."
Interest Level:      2nd - 6th grade
Below are the first two spreads from inside this book. Our small versions here don't do these beautiful watercolor illustrations justice. They are highly detailed and in the large size of the book,  quite powerful and fitting for a book about very large trees.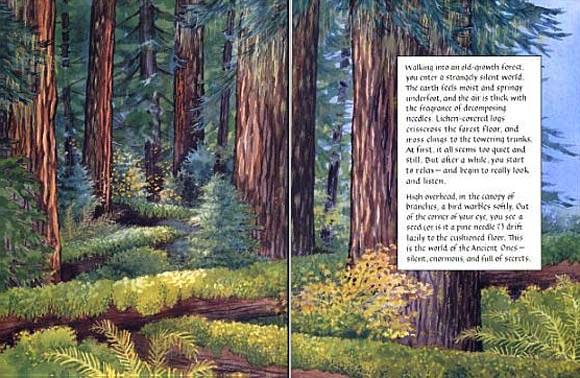 Where to now?
Now that you've seen this great book, what would you like to see now?  Please note that as an Amazon Associate, we earn from qualifying purchases.