Alphabet City

by Stephen Johnson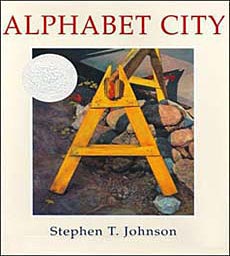 Alphabet City is a wordless tour of NYC, with each photo-realistic illustration depicting a different letter of the alphabet. Kids will delight in finding letters depicted in ordinary street objects like a Z in a fire escape or a P in a subway handrail.
Children will never look at 'ordinary' street objects the same again! 

Johnson's stunning illustrations are so photo-realistic you'll have to continually remind yourself that they are paintings, not photographs! While most letters are immediately apparent in the illustration, other letters are less obvious. However, since the book is in abc order, the reader knows what to look for an the shape pops out fairly quickly.
And if you like this title, be sure to check out Johnson's City by Numbers.
Awards Won

by Alphabet City


   - Caldecott Winners--1996 Honor Book
   - American Library Association Notable Children's Book Award
   - New York Times Best Illustrated Book
   - Horn Book Magazine Fanfare Award
   - Parenting Magazine Reading Magic Award



See inside this book

Below are sample pages from inside this book: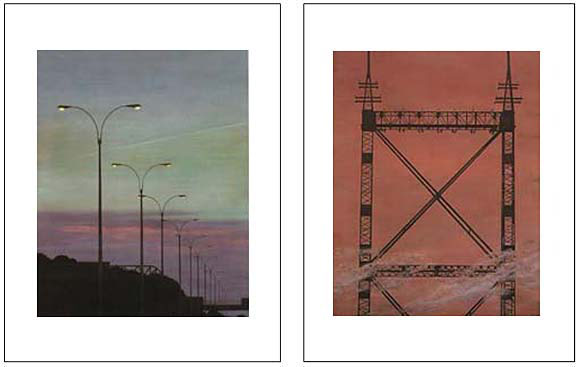 To learn more about this book, click the link below.  Please note that if you purchase an item from Amazon, they give us a small referral fee. (This helps pay for site hosting costs, thus allowing us to keep everything free for site visitors!)

Alphabet City Lesson/Activity Ideas

Note: These ideas also works for Johnson's other book, City by Numbers
ABC Hunt for Young Children -- Learning Letters
For younger children, it would be fun and educational to follow up a reading of Alphabet City by pointing out alphabet shapes in objects in your classroom. This may take some time to notice them so give yourself a few days to take note of them and don't expect to find examples as clear cut as in Johnson's book. Your kids will have fun with it anyway. Finding letters would probably be too abstract for young kids to do themselves, but if you point it out, they will have fun discovering the lettter 'hidden' in the object.  And maybe some kids will identify some of the easier letter shapes.

For example, do your classrooms windows have a frame that could look like a capital H? What about the student chairs? From the side, do they look like a lower case H?  Do you have a clock in your classroom?  It's probably round like an O. Does the legs on any of your tables, chairs, etc, make letter shapes? Some classrooms might naturally be better set up for this activity, so before launching into it with your class, be sure to take a look around and see if you can find some letters ahead of time.


ABC Hunt for Older Children -- Art Activity  (Gr. 3+)
The LearnNC website has an "Alphabet Hunt" activity to accompany this book. In short, students find items on the school grounds that take the shape of letters and then take pictures of them. Encourage the students to really focus on finding the best angle and composition (as opposed to quickly snapping the photo.)  Since one of the goals of artistic photography is to enable people to see the world in a way they never have before, this book is a great mentor text for this principle. You can access the LearnNC site by clicking here.




---

This book was an honoree for the prestigious Caldecott Medal for best children's books. Check out our list of all the Caldecott winners.