Alphabeasties and Other Amazing Types
by Sharon Werner
This book is so clever, presenting an alphabet of animals, each created by the initial letter of the animal's name. The result is so fun and visually attractive!  We especially love that the book includes fold-out pages to allow the impressive size of tall or long animals. School Library Journal promises that "young readers will enjoy the animals while older children will have a greater appreciation for the book's artistry."
And teachers who are using this book when teaching the alphabet will appreciate the fact that upper and lower case letters are used as well as a number of different font styles.
A Parent's Choice Book Award winner!  We totally agree. We are wondering why has this book not won more awards than this?
Interest Level:  Preschool - 3rd Grade
See Inside:
Below are sample spreads from inside this visually fantastic book.  We love that some of the pages even fold-out to incorporate an aspect of the animal, such as the open mouth of the alligator or the tentacles of an octopus: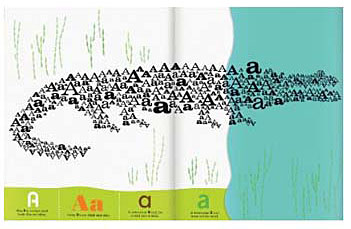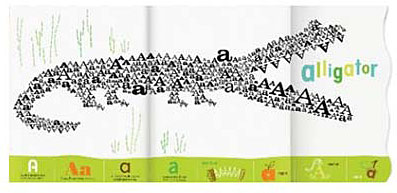 Where to now?
Now that you've seen this great book, what would you like to see now?  Please note that as an Amazon Associate, we earn from qualifying purchases.