AlphaTales Books

one cute story for each letter

The Big Book of AlphaTales
"26 Irresistible Stories That Build Phonemic Awareness and Teach Each Letter of the Alphabet"
--a series by Scholastic
Teaching the alphabet is loads of fun with this cute, humorous and energetic anthology of alliterative stories which help children recognize letters and the sounds they make.
These books are specifically designed to lay the foundation for reading success. Your kids will enjoy it...and learn a lot too!

If you're teaching the alphabet, you'll get a lot of mileage out of this series.

See inside one of the books

Below are sample pages from inside the 'a' book (The Adventures of Abby Alligator).  As you can see, there's A LOT of words that start with the letter 'a'.
Sometimes this type of format makes for awkward stories that don't even seem to make sense, but we think THIS series doesn't have that problem. The authors did a great job of filling their books with alliteration AND maintaining a fun and interesting plot.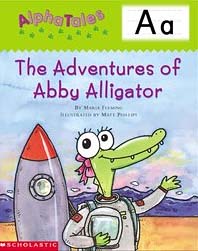 This series comes in two formats: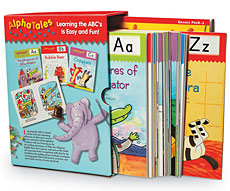 AlphaTales boxed set
if you'd prefer 26 individual books rather than one giant one (we do!).
For details on the AlphaTales boxed set, please click here or on the picture.
Big book with all the stories.
This may be convenient, but with one story for every letter of the alphabet, this is a super large book --472 pages. We find it's weight and bulkiness makes it hard to use as a classroom read-aloud, but maybe we are just weaklings :). 
For details, click here or on the picture.

Where to now?
Now that you've seen this great book, what would you like to see now?  Please note that as an Amazon Associate, we earn from qualifying purchases.