AlphaTales Books
one cute story for each letter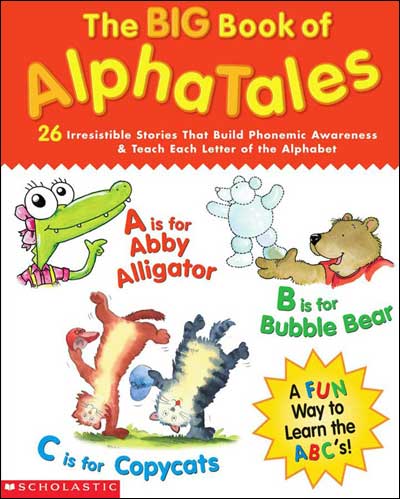 The Big Book of AlphaTales
"26 Irresistible Stories That Build Phonemic Awareness and Teach Each Letter of the Alphabet"
--a series by Scholastic
Teaching the alphabet is loads of fun with this cute, humorous and energetic anthology of alliterative stories which help children recognize letters and the sounds they make. These books are specifically designed to lay the foundation for reading success. Sometimes this type of format makes for awkward stories that don't even seem to make sense, but we think THIS series doesn't have that problem. The authors did a great job of filling their books with alliteration AND maintaining a fun and interesting plot.  Your kids will enjoy it...and learn a lot too!
Early childhood education teachers looking for books that truly support phonemic awareness will you'll get a lot of mileage out of this series.  And if you are doing a letter-of-the-week lesson format, this guarantees a read aloud for each week. :)

Below are sample pages from inside one of the books -- the 'a' book (The Adventures of Abby Alligator).  As you can see, there's A LOT of words that start with the letter 'a'.   In case you can't read the text, here is what the first few pages says:  "Abby wants to be an acrobat. But she's afraid of falling. / Abby wants to be an artist. But she can only paint apples. / Abby wants to be an animal doctor. But she's allergic to aardvarks.")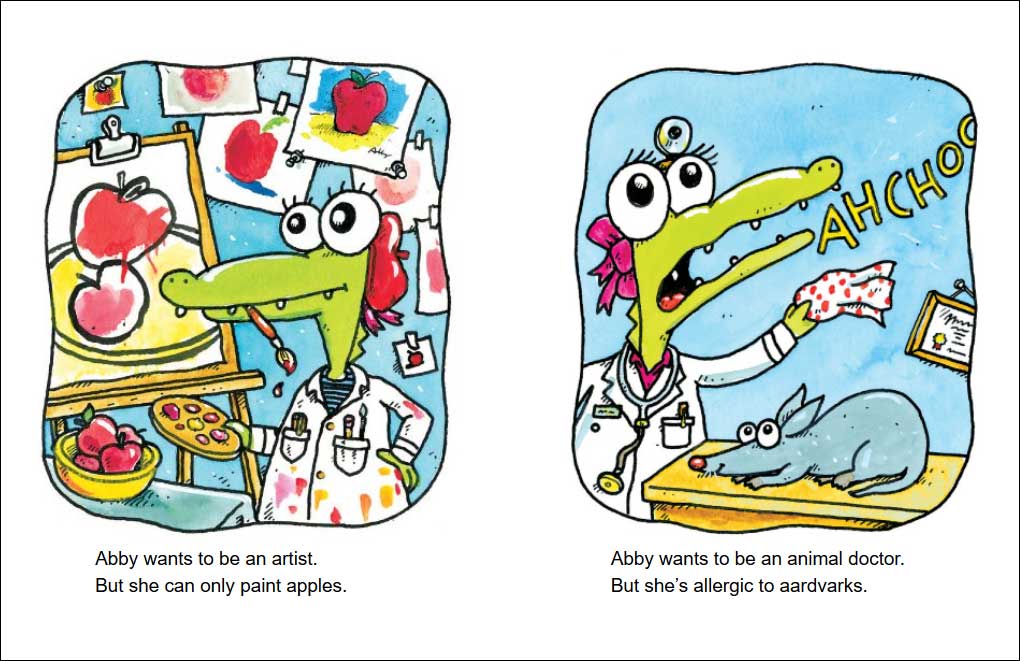 The above pages are from the letter A book. There are individual stories for each letter of the alphabet (B is for Bubble Bear, C is for Copycats...)


AlphaTales comes in two formats: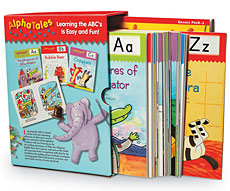 AlphaTales boxed set
Good if you'd prefer 26 individual books
rather than one giant one. We do, but
then again, we live in fear of losing one
of them and not having a complete set!

Big book with all the stories
This may be convenient, but with one story for every letter
of the alphabet, this is a super large book --472 pages.
We find it's weight and bulkiness makes it hard to use as a
classroom read-aloud, but maybe we are just weaklings :).


Either way (as one book or 26 separate books), you get ALL of these stories. That's a pretty good deal if you ask us!!  :)


The Adventures of Abby the Alligator, Bubble Bear, Copycats, Detective Dog and the Disappearing Donuts, The Enormous Elephant Show, Fifi Ferret's Flute, Gorilla, Be Good!, Hide-and-Seek Hippo, Iguana on Ice, Jaguar's Jamboree, Kangaroo Kazoo, The Lamb Who Loved to Laugh, Monkey's Miserable Monday, The Nicest Newt, Olive the Octopus's Day of Juggling, The Pigs' Picnic, The Quiet Quail, Rosey Rabbit's Radish, Seal's Silly Sandwich, When Tilly Turtle Came to Tea, Umbrellabird's Umbrella, Vera Viper's Valentine, Worm's Wagon, A Xylophone for X-Ray Fish, The Yak Who Yelled Yuk, Zack the Lazy Zebra
Where to now?
Now that you've seen this great book, what would you like to see now?  Please note that as an Amazon Associate, we earn from qualifying purchases.