Alpha Bugs:
A Pop-Up Alphabet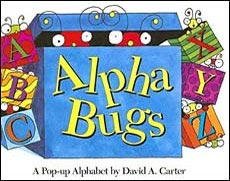 created by David Carter
Alpha Bugs is an amusingly and clever pop-up book, with funny creepy crawlies that literally burst out from every page.

This title is more geared toward whimsical fun than helping kids learn alphabet letters, BUT it's still a fun choice for that purpose.

Alliterative text helps adds emphasis to the letter being featured (ie: jar of jumping jellybean bugs, fancy fragrant flower bug, two terribly timid tomato bugs...)
Note: This book is for FUN, not to teach about bugs. Just to be clear. These bugs are silly, made-up bugs (ie: a waffle bug!)

Below are sample spreads from inside Alpha Bugs: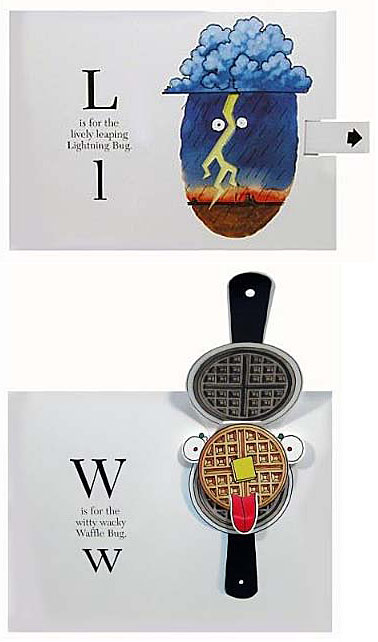 Where to now?
Now that you've seen this great book, what would you like to see now?  Please note that as an Amazon Associate, we earn from qualifying purchases.

---
You may also want to check out other pop-up books by David Carter. Once you see one, you will be hooked. :) To learn more, click on the sampling of book covers below or the author's name above.