All the Water in the World
by George Ella Lyon and Katherine Tillotson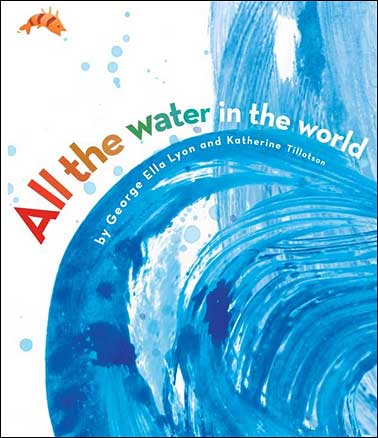 All the Water in the World is a poetic, graphically stunning look at the world's water supply. With an "infectious beat and eye-catching illustrations" (Booklist), this title covers where water comes from, where it goes, and why we must protect it.  A School Library Journal starred review said this book "begs to be read aloud" and we definitely agree.

This 'ode to water' is would be a fun read-aloud on Earth Day, on a rainy day, or even a really hot day! And, of course, this is a great book to read when teaching about the water cycle for kids. However, we want to be clear that the treatment is light and poetic, not scientific and descriptive, and only part of the book touches on stages in the water cycle. One spread covers rain and run-off, the next evaporation, and a third condensation and rain. The book then moves on to other water-related topics. Thus, this 'celebration of water' could be a nice supplemental text once the water cycle has been introduced.

Reading Levels
Interest Level:  Kindergarten - Grade 3
Grade Level Equivalent:  2.1
Lexile Measure:  520L 

Below are sample spreads from inside All the Water in the World. We love the graphics in this first spread. And really, what child hasn't looked at their bathroom faucet and wondered where the water comes from. The spread on the left below occurs early on and is followed by three spreads about the water cycle. In fact, the spread immediately following this one starts with, "Water doesn't come. It goes. Around."  / After a few spreads on the water cycle, the book moves on to celebrate water and how all living things depend on it for life.  A child in a dusty landscape is shown holding a cup and waiting for rain; animals are shown in a tree watching a thundercloud in the distance rain down much needed water; and a spread shows how "this wet wonder means grow / means life will flow..."



The last full spread of the book, shown below, closes with a reminder of how precious water is, exhorting the reader to "keep it clear, keep it clean..."


Lesson Idea/Activity to go with All the Water in the World

This is such a beautifully executed book. The creative, vivid illustrations that are so full of movement, the poetic, rhythmic beat... After reading this book to your kids, they will surely be inspired to create their own water-related art and prose.  One possible cool art project is shown at left.  Once it dries, kids can add some prose about water.

Where to now?
Now that you've seen this great book, what would you like to see now?  Please note that as an Amazon Associate, we earn from qualifying purchases.