Alive: The Living, Breathing Human Body Book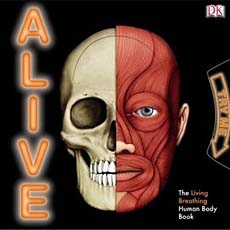 by DK Publishing
This title is one part science, one part art, and 100% engaging. If you're teaching kids human body lessons, this is one fun and educational book to have in your arsenal!  
Each spread brims with paper sculptures and other novelty items (pop-ups, pull tables, sound chips, fiber optics...), plus ample illustrations, diagrams, etc.

The cover has a button that, when pressed, fires neurons in an illustration of a brain, and in one spread, there's even a 3-D heart that actually beats!
BookPage called it an "irresistible multi-sensory introduction to biology... captivating." You'll have to be careful with this book, since it's full of pop-ups, sound chips, acetates, fiber optics, etc... However, it's such a captivating, unique book that we think it's worth the extra care required. The text is a bit challenging for young kids, but the novelty features will encourage so much learning that this is still a solid resource of the classroom, even if the reading level is a bit too high.


This book was selected for a Parent's Choice Award for Non-Fiction!


Interest Level:   Grade 4+


See inside
Here's a sample spread from inside Alive: The Living, Breathing Human Body Book, showing the fantastic paper sculptures, smaller novelty items (ie: the small lift-the-tab in the corner), and amply illustrated pages. And see that heart...it literally beats!!! So fun, so interesting!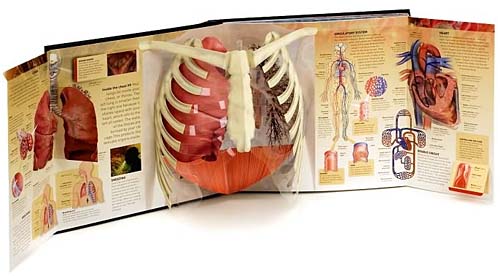 Please note that if you purchase an item from Amazon, they give us a small referral fee. And that helps us cover the costs of this website.


---